From navy blue hex code and navy blue RGB, to complementary colors, color variations and their uses, we share everything you need to know about this deep and enigmatic color.
What color is Navy blue?
This color is derived from indigo dyes and gained popularity in the mid 1700s when it was first used as a uniform color by the Royal British Navy. That's right – navy blue literally has its roots in the navy. It became so popular that navies around the world also started using it as their color of choice. These days, a dark navy is commonly seen in school uniforms, branded color palettes, home paint colors, and more. It was even one of the color trends in 2020.
Navy Blue Color Codes
Let's get technical. A quick reminder on color theory: the RGB color code is made up of three colors (red, green and blue). The navy blue RGB color space is 0% red, 0% green, and 50.2% blue. That's a lot of blue.
If we look at the CMYK color space (commonly used in color printing), you will find that this navy blue color is 100% cyan, 100% magenta, 0% yellow, and 49.8% black. This combination creates the rich, deep tones associated with color. The navy blue hex code is #000080.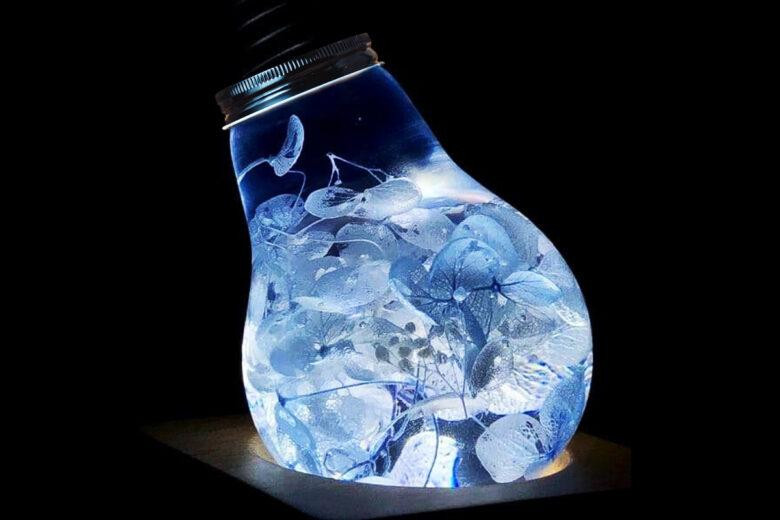 How do you work with Navy blue Color?
Navy blue is so versatile that it is often used as a neutral color. It pairs well with a variety of colors and creates a dark base background so brighter colors can be accented. Because it's so bold and dynamic, it also works great with other neutrals.
Due to its military origins, this color tends to be seen as a serious, austere color, evoking feelings of understated elegance and structure. These characteristics are preserved when paired with both other neutral tones as well as bright tones and bright colors.
Hues like dark purple, brown and hunter green are just as intense as dark blue. And, when combined, colors tend to compete with each other and lose their impact. Instead, try to choose contrasting colors that will stand out against the neutrality of navy blue.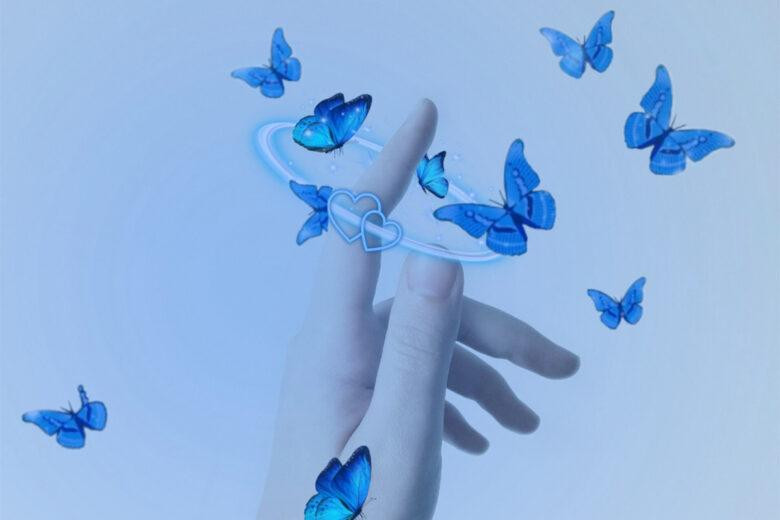 What colors go with Navy blue?
Because it's so versatile, you have plenty of navy blue color palette and color-matching options. If you're keeping things cool and calm, consider similar colors and neutrals. Looking for a pop? Pair it with complementary colors or on-trend accent colors.
The possibilities are virtually endless, but we've narrowed them down and outlined some of our favorites below. Bookmark this page for easy reference access as you design.
complementary colors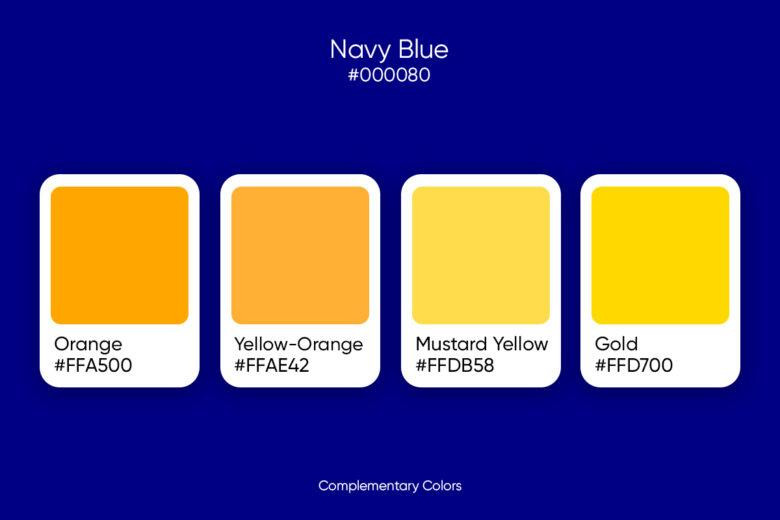 Orange
Yellow orange
Mustard yellow
Gold
Similar colors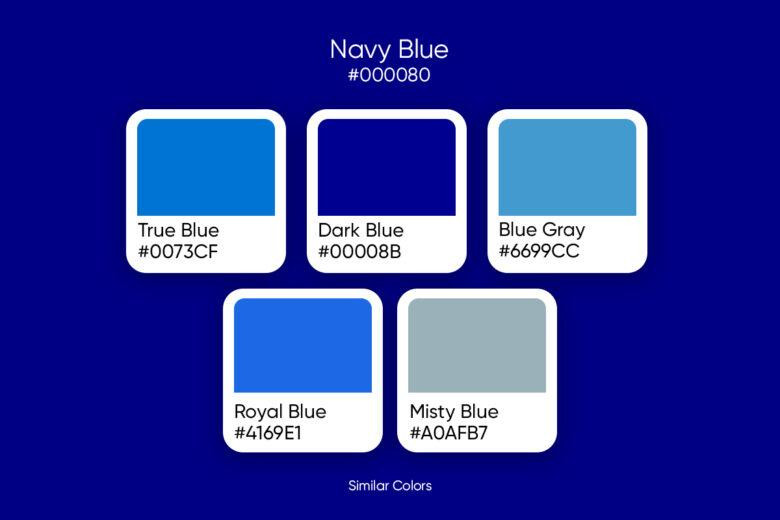 true blue
Dark blue
Blue grey
Royal blue
misty blue
Analogous colors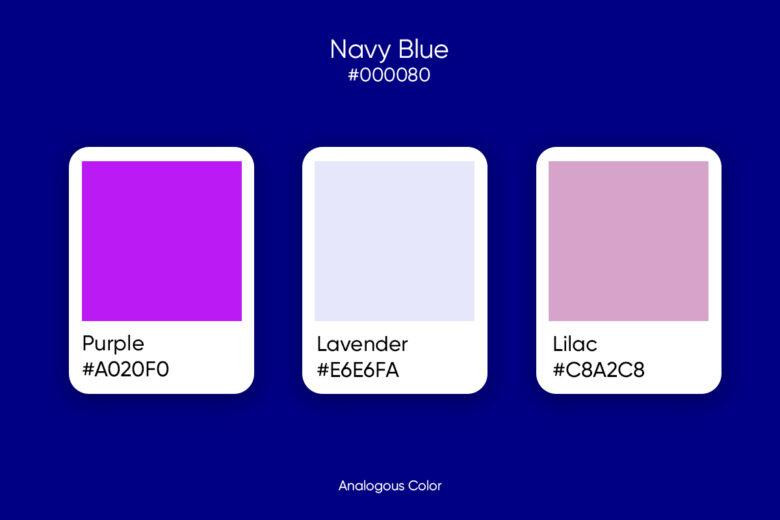 Accent colors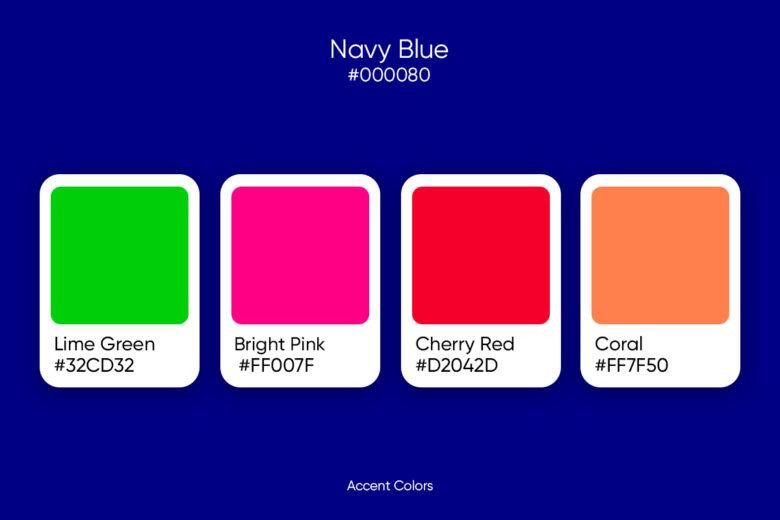 lime green
Hot pink
Red cherry
coral
Neutral colors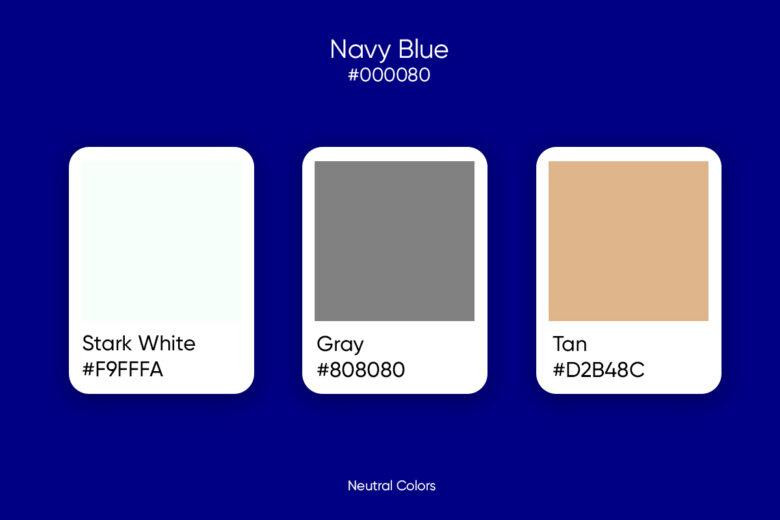 What do the colors look like Navy blue?
Feeling blue, but maybe not navy blue? Try these similar colors if you are looking for variations of this dark blue.
Dark blue (#002080 or #0b0080)
Medium Dark Blue (#001580)
Imperial Blue (#000b80)
Deep Blue (#150080)
Dark Imperial Blue (#200080)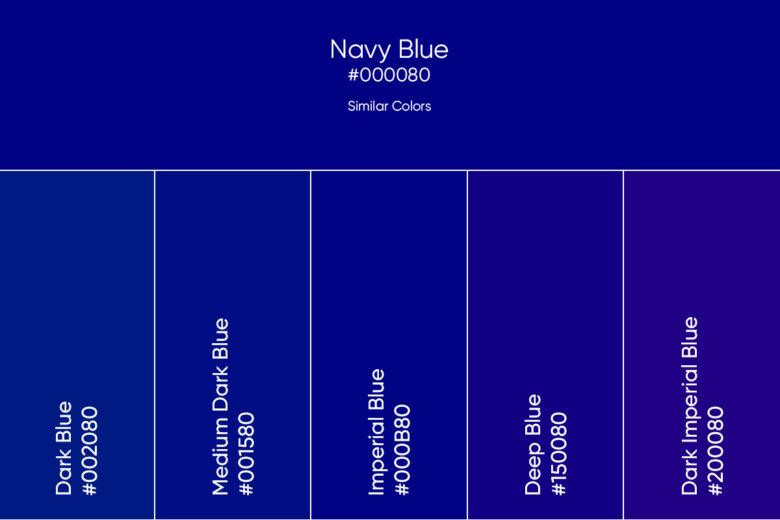 What are the different shades of blue?
There is so much more blue than just this royal navy hue. Here are some of our other favorite shades of blue to use in graphic designs.
Royal Blue (#4169e1)
Yale Blue (#0f4d92)
Dusty Blue (#889bae)
Azure (#007FFF)
Sapphire (#0f52ba)
Teal (#008080)
Tiffany Blue (#0ABAB5)
Baby Blue (#89CFF0)
Electric Blue (#7DF9FF)
Teal (#30D5C8)
Create fantastic photos using Navy blue
The versatility of navy blue makes it a favorite among artists and designers. Navy blue makes a bold and vibrant statement, after all. You can easily add it to your designs on Picsart using the Color Picker tool in the editor. Just search for the color code, #000080, and you'll be ready to start creating designs and images that incorporate navy blue. Ready to start designing? Here's how:
On the Web:
1) Open the Picsart web editor and click to start a New project.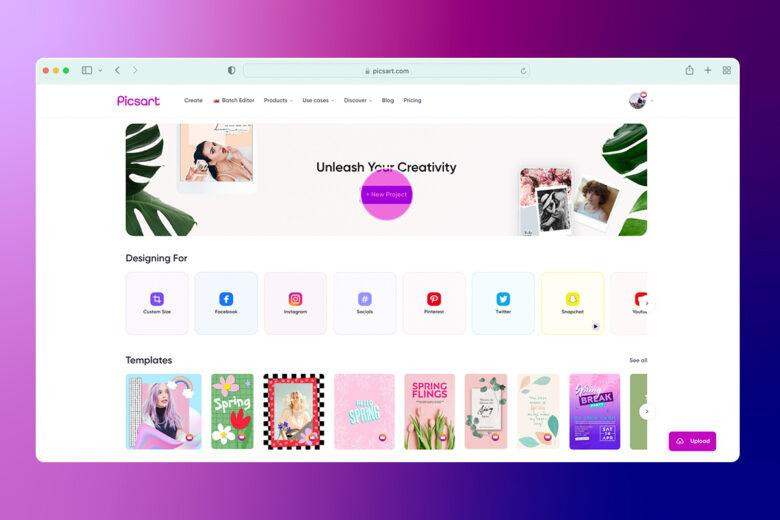 2) In this example, we are going to design a social media post. So click on Arrangement in the left toolbar and select the Instagram profile to automatically size your design canvas for the platform.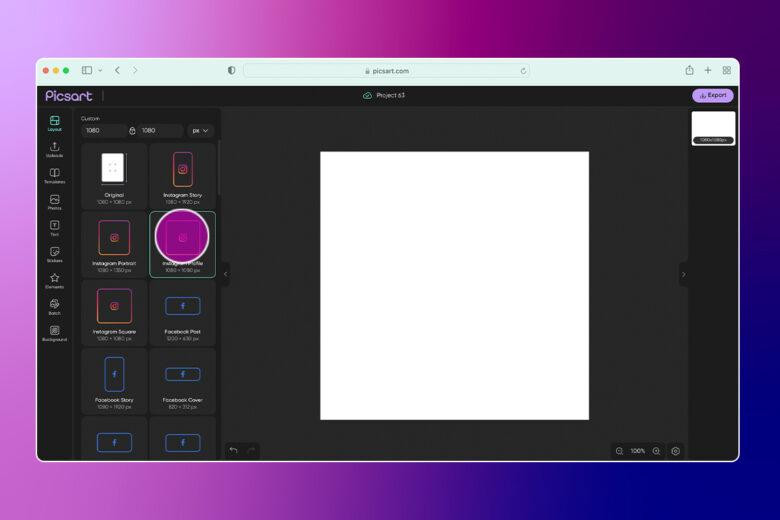 3) Then click on Backgroundselect Color, and enter the hexadecimal code for navy blue. You now have a blue canvas to design on.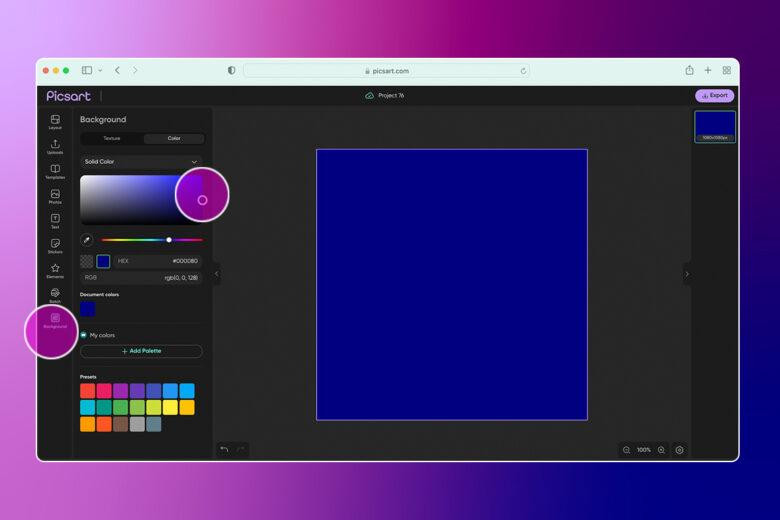 4) It's time to design your social post. Here we have added stickers, but you can also add text, filters, photos, etc.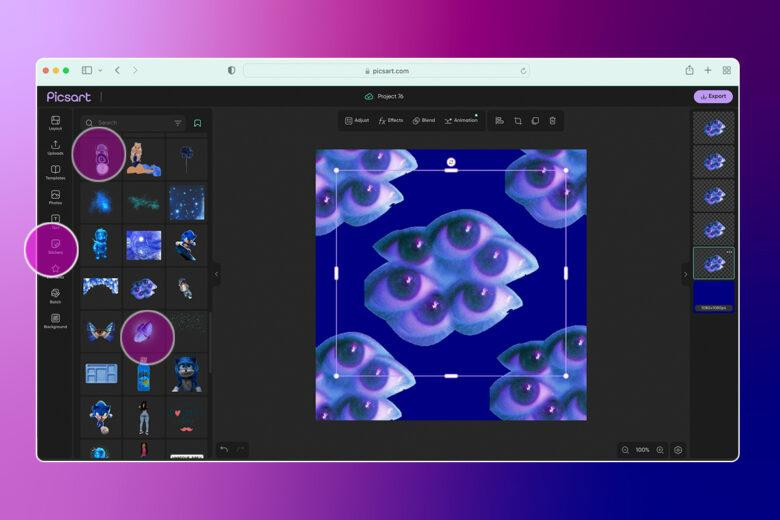 5) When you have finished editing, click Export and To download your design. Here you can also increase the resolution, name your file, and select the file format.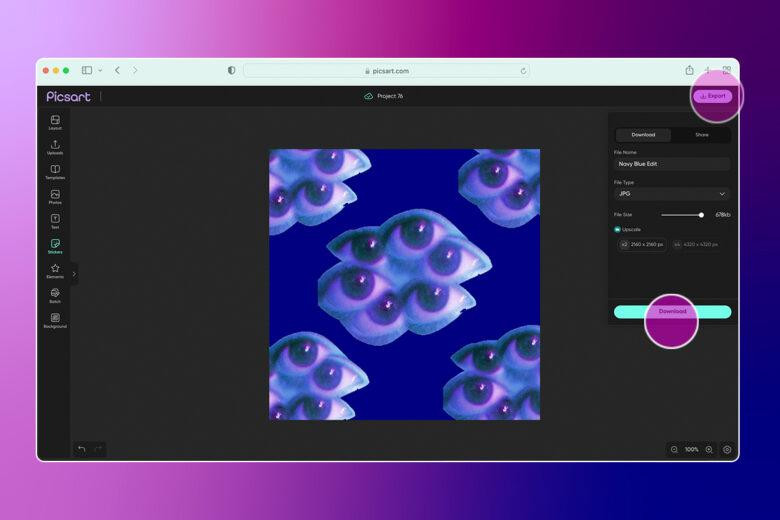 On a mobile device:
1) Open the Picsart mobile app and press the plus (+) button to start a new edit.
2) Select Drawings and Create a newthen touch the Color pallet icon to open the color picker.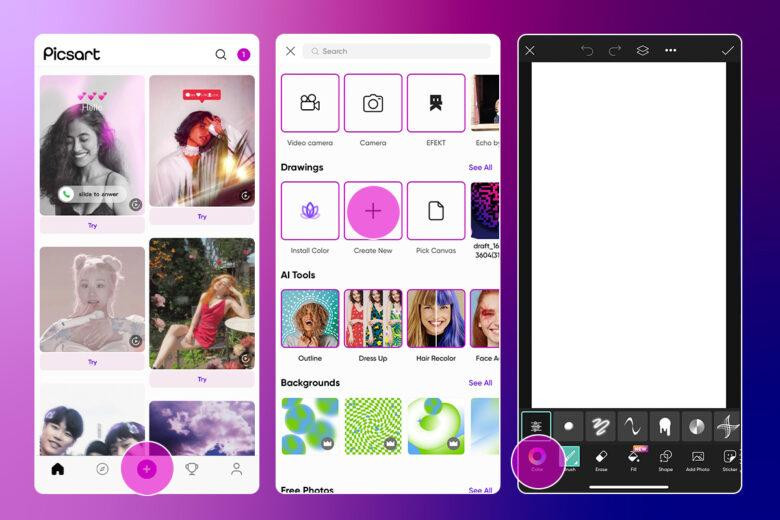 3) Select a shade of navy blue and tap the checkmark icon to apply it to your canvas.
4) Once you have a blue background, it's time to start customizing your edit. Here we make cool blue aesthetic wallpaper, so we added navy blue stickers.
5) Adjust sticker opacity, replicate, reposition and more.
6) When you are done with your design, press Nextthen to safeguard your design on your phone or Job to the Picsart community.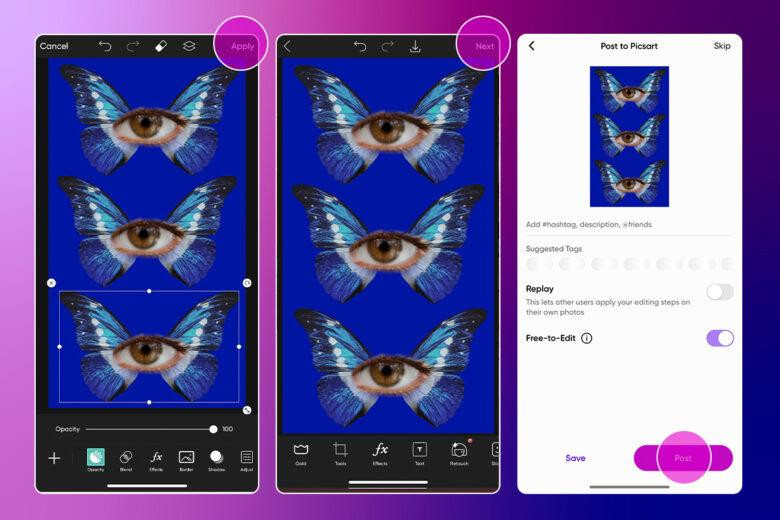 Create at the speed of culture
Picsart is a complete ecosystem of free content, powerful tools, and creator inspiration. With one billion downloads and over 150 million monthly active creators, Picsart is the largest creative platform in the world. Picsart has collaborated with major artists and brands like BLACKPINK, Taylor Swift, The Jonas Brothers, Lizzo, Ariana Grande, Jennifer Lopez, One Direction, Sanrio: Hello Kitty, Warner Bros. Entertainment, iHeartMedia, Condé Nast, and more. Download the app or start editing on the web today to enhance your photos and videos with thousands of quick and easy editing tools, trendy filters, fun stickers and shiny backgrounds. Unleash your creativity and go gold for premium benefits!