Smartphones continue to improve the quality of the images they can take, but one could say that ergonomics have stagnated or deteriorated over this period. That's where the ShiftCam ProGrip comes in.
It's not like there haven't been handles for phones before. LG was perhaps most ambitious in 2016 when it took a modular approach with the G5, and one of the attachments was a handle. This concept never took off, but the idea behind it never died either, and ShiftCam tries to be ambitious.
The ProGrip doesn't discriminate by platform – iOS and Android users are mostly on equal footing. The contrasts are actually in areas that might surprise you, and the value proposition here doesn't always have to include your hands.
Design and build
People usually capture their images in portrait or landscape mode, and that's why the ProGrip's clamping system tilts the way it does. It's not mechanical like a motorized gimbal, so you have to manually rotate it however you want. When doing so, it has a satisfying click to confirm you've done it right, and the orientation is always clockwise to switch to portrait mode and counter-clockwise to switch to landscape mode.
It's pretty clear that ShiftCam has taken a strategic approach in setting the clamp at around three inches wide, putting it in line with a host of phones that have been coming out for several years now. Not all phones fit into these dimensions, mainly because some handsets are too small or slippery. I noticed this right away when trying to film with the iPhone 13 Pro. It was unusable without a case, although there is a fix in the box with the ProGrip itself: two silicone strips, when placed along both sides of the clamps, create a buffer to hold small phones in place. square. They lock through punched holes on the clamps, helping to keep everything secure.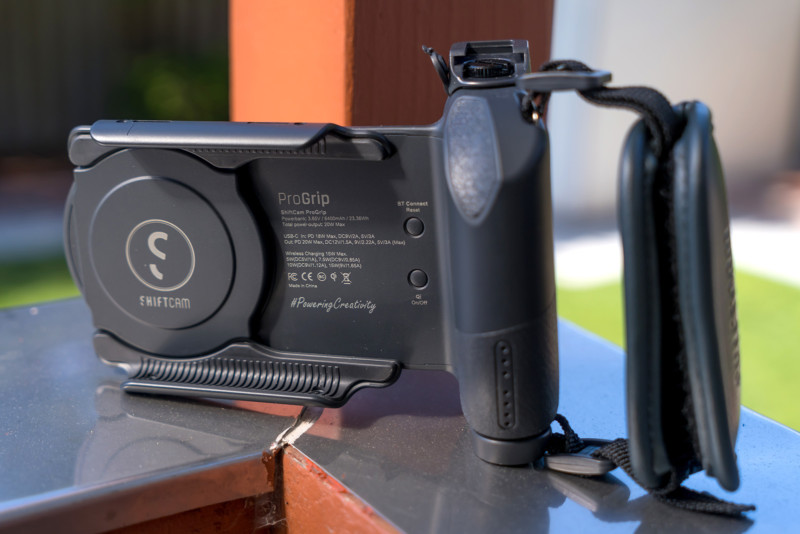 You may not need to use them at all if you have a case that offers just enough thickness. It was like that with the iPhone 13 Pro, but not the 13 Mini, which needed the bands even with a case. Small rubber plugs are also added for screens with curved edges that could slip out of the clamp. The clamp's maximum reach is 3.54 inches, which is just enough to accommodate large phones, like the iPhone 13 Pro Max, Samsung Galaxy Note 20 Ultra, and Vivo X80 Pro, among others. The spring mechanism isn't particularly flexible, but I had no trouble getting a phone in and out of the clamp, even if it was in a case.
The grip has a physical shutter button that connects to the phone via Bluetooth. Click it and you take a still photo on an iPhone or Android phone. Hold it down and you start recording video on an iPhone, while shooting in burst on an Android device. I couldn't find any way to change or adjust these settings.
The other side of the handle has a matrix of LEDs to indicate pairing status and battery life. One of the neat things that ShiftCam was able to integrate was a Qi wireless charger in the clamp to bring juice to the phone while using the ProGrip to capture whatever you want. The charger itself isn't difficult to line up with the coils on the back of compatible phones. If, however, your phone doesn't have wireless charging, you can plug it in using a cable to the USB-C port on the bottom.
Install
The configuration largely depends on what ProGrip you actually have. No, there are not two variants, apart from ash and charcoal colors, but there are two ways to get the product. The ProGrip comes on its own for $100, or you can pay $150 to get the starter kit, which also gets you a nice protective case, wrist strap, cold shoe mount, and adapter for hot shoe mounts. I need to test the starter kit and see how much of a difference the extra parts make. My only complaint about the case is that it only fits the ProGrip itself. It makes room for the wrist strap, but attach the cold shoe or hot shoe adapter, and it won't close. You must first remove them to close the case.
Pairing the ProGrip is easy, but to do it again, just hold down the Bluetooth reset button and click the shutter to put it back into pairing mode. The wireless charger also has its own on/off button.
The additional parts of the kit lend themselves to quite sophisticated setups. No doubt part of it is upselling ShiftCam so you can use its lenses and attachments to boost gear, but you can use whatever you have. I used a case and lens from Moment with a Samsung Galaxy S21 Ultra, while trying out different LED lights on the cold shoe. The bottom of the handle includes a standard screw mount for attaching it to tripods, monopods or poles. None of this was particularly difficult to do. My only concern was that the cold shoe mount could sometimes loosen a bit, but nothing serious happened during my testing.
In the field
I would say the ProGrip has a bigger impact when shooting video than stills under most circumstances. One of the pervasive issues with handheld video capture on a phone is that the software often has to compensate for hand shaking and shaking. So phone makers are finding ways to compensate for this, whether that's using the ultra-wide lens more or using software to help stabilize the footage.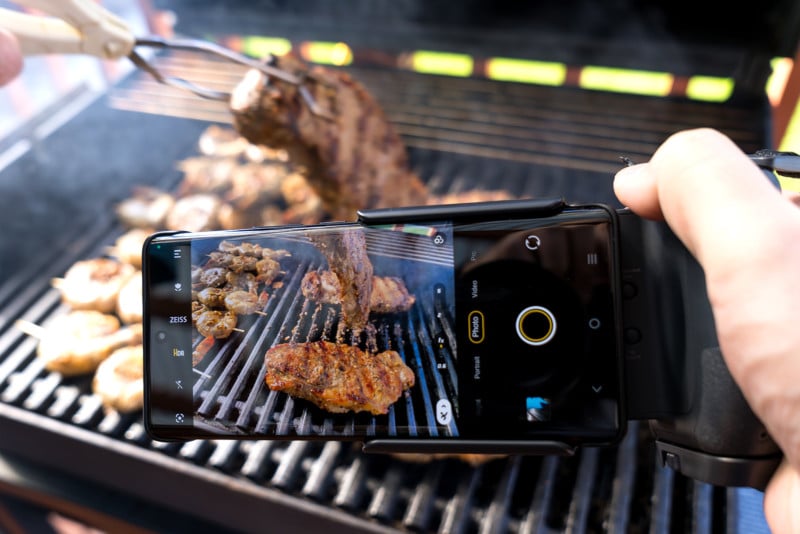 The ProGrip is more of a low-tech way to tackle this, as it adds good old stability through its design. The wrist strap proved to be very helpful in securing my grip, especially if I was trying to shoot at high, low, or obscure and difficult angles to get the best vantage point. The ProGrip doesn't care what mode you're using on the phone. Simply apply settings, exposure, etc., and click the shutter to take the shot. I found it worked well in low-light situations and in Pro mode, simply because the ruggedness allowed for a more stable view.
I imagine vloggers would pick this up pretty quickly. Phones often impose compromises on how and when to take pictures, and especially in landscape, it's usually a two-handed affair. The ProGrip changes that a lot. Even if I had to mount it on a small tripod, I could just grab the phone from the grip with the tripod still attached to take a quick photo – something more ergonomically difficult without the grip.
Other Use Cases
ShiftCam markets the ProGrip as a sort of desktop stand, and was right to do so. Placing a phone in either orientation has proven useful when working or watching something on it hands-free. Video calls were easier, as were phone calls using the speakerphone. The only catch is that it's a fixed angle, so if you're too high or too low, you have to improvise.
I loved placing it on a flat surface to take long exposure shots. The only problem is the fixed angle, which means that it is not possible to modify its trajectory. If I wanted to capture something from a majestic vantage point, I would have to find a way to do it, or just use a tripod, if I had one handy. Same thing with a steeper bird's eye view.
One thing I will say about the 6400mAh battery is that it is super handy to have. It had a weird tendency at times to start charging a phone wirelessly, only to stop a few minutes later, but eventually it worked fine. The battery also has pass-through capability, so if you plug in to charge the ProGrip with a phone in place, the grip will charge the phone at the same time.
All about getting started
Of all the phone camera grips I've come across, this was one of the most functional and stylish. It works, which is really what you'd expect from a camera grip anyway. While it would be nice to have other buttons for certain functions, I later realized it could complicate things, especially when it came to straddling the line between iOS and Android devices.
The starter kit is worth the extra money because the parts that come with it make a real difference in how you get ready. Whether it's a light or a microphone, a tripod or an external lens, the ProGrip offers greater flexibility when you have the parts in place.
Are there alternatives?
There are plenty of others, like the Pictar Pro with its retro styling and ability to focus and zoom using the built-in physical buttons. It even has a detachable viewfinder, as well as a dedicated app for shooting in different modes, including full manual and RAW. ShiftCam is actually launching a new grip it's calling the SnapGrip, which has a Kickstarter campaign before there's retail availability. It focuses more on content creation than professional photography and clearly has a lifestyle vibe through the various color options.
The Joby GorillaPod Mobile Rig isn't a grip per se, but it incorporates a tripod with two arms for attaching accessories for a complete smartphone rig.
Should you buy it?
Yes, if you think your mobile photography game could use support. The ProGrip really changes the way you capture still photos and video due to the more stable ergonomics it gives you. At $150 for the starter kit, it's also priced well compared to the alternatives.