Pentax could now find itself in a strange and advantageous position as the main beneficiary of the demise of the DSLR as Canon and Nikon prepare to exit the space.
First, a bit of history
Pentax is a household name with a history dating back to 1919. It grew into a global brand, manufactured all major types of cameras and became one of the largest optical companies in the world before its sale to Ricoh in 2011.
The camera brand has a long and proud heritage in the camera industry, with a line of manufacturing optics from the very beginning (for eyewear) to its eventual purchase by Hoya. It made military optics during World War II, was disbanded, then reformed in 1948 when it continued to manufacture lenses, mainly for (what became) Konica and Minolta.
With the growing popularity of the 35mm roll film camera in the form of the Leica 1, the interwar years were spent trying to solve the viewfinder problem. Leica went to the rangefinder, while Rollieflex continued the twin-lens reflex. The single-lens reflex (SLR) arrived in 1936 and it was the post-war years that saw a wave of development.
Pentax introduced the first Japanese SLR, then the first SLR with an instant-return mirror. His technical achievements are numerous, including the Spotmatic (TTL metering), producing one million SLRs in 1966, TTL auto exposure and TTL auto focus among a number of firsts. However, it's Pentax's breadth that's impressive, including its medium format range (the 120 6×7 cameras), as well as the popular 110 Auto.
While Pentax had been successful in film, it was slow to release a digital camera, the *istD only arriving in 2003, well after Nikon and Canon.
It formed a strategic partnership with Samsung during what was arguably its most fertile digital period. In fact, it was the innovative and inexpensive APS-C models that caught the eye, alongside its medium-format 645D. The latter was critically acclaimed for both its quality and its modest price. The dual APS-C/medium format strategy predated Fujifilm by about six years and offered photographers a real choice.
Pentax was also quick with its mirrorless release; in fact, it was innovative in releasing not one, but two mirrorless models. The tiny Q featured a 1/2.3″ IBIS sensor, while the later K-01 (using a body designed by Marc Newson) had an APS-C IBIS sensor but with a traditional K-mount. Unfortunately, both were failures and Pentax never revisited its mirrorless graveyard.
Hoya's purchase of Pentax was primarily for the optical side of the business and it didn't take long for him to drop the junk camera division to Ricoh. The expansion of the 2000s turned into contraction with the adoption of a "mirrorless" policy and the abandonment of medium format. The only highlight was the release of the first full-frame Pentax in the form of the K-1 in 2016, ironically probably at the same time that Nikon and Canon decided to start thinking about exiting the DSLR market. The 2021 K-3 Mark III featured a number of innovations that showed that Pentax was still capable of producing high quality cameras, it's just that not much was going on in terms of volume for the camera. 'company.
What does the future of Pentax hold?
With the "no denial" non-announcement of Nikon's DSLR discontinuation development last week, Nikkei Asia (as reported by Canon Rumors) also reports that Canon will stop producing DSLRs in the coming years.
This revelation about Nikon should not have come as a surprise, as it had already outlined its plan to withdraw from its DSLR lineup earlier this year when it announced its medium-term strategy with planned DSLR revenue cuts of 30% in 2021 to only 4% in 2025.
Nikon and Canon face an interesting dilemma with the future of their camera development, but perhaps the least controversial is halting all DSLR development; it's clear from expeditions that all the money to be made in camera sales is mirrorless. Quite simply, funding for technical development is concentrated where it is likely to reap the greatest and most lasting benefits.
What is less clear is what should happen about the production of existing models as there is an inherent cost that must be offset by any sale. However, as mirrorless becomes the ubiquitous technology, the number of DSLR sales – and more importantly, their profit margins – will decline. Nikon has already been instrumental in taking down System 1, KeyMission's disastrous effort, and it looks like the DSLR is next. That said, it has maintained 16 years of F6 production through 2020, so it's conceivable that the D6 (and the D850 or D780?) could be kept in production for some time.
However, that brings us back to the number of DSLR shipments: it was around 2.3 million in 2021, down from 2.4 million in 2020. That figure looks likely to drop again this year, but that's still a lot of cameras. Just as how deliveries translate to sales remains to be seen and, by moving production to mirrorless, Nikon and Canon are nudging consumers in that direction. But the question remains: what is the current DSLR market?
One of the mainstays of the DSLR has of course been Pentax. It doesn't have a mirrorless model and, in fact, its brand vision boldly states that "Pentax believes in the future of SLR photography". In 2020, the CEO of Ricoh Imaging boldly stated that Pentax "can't" go mirrorless.
The company ranks third in BCN DSLR sales due to the fact that no one but Nikon and Canon sell them; even then, it was only managing 5.8% in 2021, which could be 130,000 units worldwide. Pentax currently only lists three DSLRs (excluding the 645Z medium format) in the form of the K-1 Mark II (2018), K-3 Mark III (2021) and K70 (2016), meaning that its commitment to manufacturing is limited, while publicly promoting the notion of limited-edition customizations as opposed to mass production, perhaps similar to how Leica sells in the marketplace.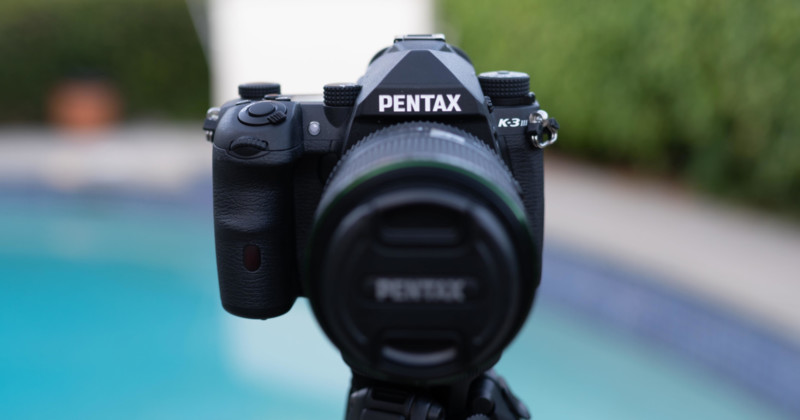 What's remarkable about Nikon's (and Canon's) increasingly rapid exit from the DSLR market is that it potentially leaves Pentax as the "last man standing" in DSLR production. At first glance, there would appear to be a viable – but small – market for the DSLR, much in the way that Leica has continued to manufacture the rangefinder. Key to this group's commitment is the continuous development of cameras and lenses.
Pentax would seem perfectly positioned to take advantage of the situation, given its expertise and current positioning. The question is whether it can convert existing DSLR users to the Pentax brand, perhaps at a premium price, but not in the same league as mirrorless cameras. Now would be the perfect time for a "charm offensive", and perhaps offer a roadmap for future development, to lure potential customers into the fold of what could be an ongoing market of 0.5 million cameras. per year.
The way is clear, and now that Pentax has its "Get Out of Jail" card from competitors quickly choosing to shut down the competition, what will it do next?
---
Picture credits: Photos by David Crewe for PetaPixel.