With advancements in computer technology, you would think photo editing is faster than ever. This is simply not the case far from it. Software like Adobe Photoshop Lightroom Classic has become much more sophisticated, and with increasing file sizes, improving the speed and productivity of your workflow becomes a necessity.
This article explains how some basic tools can help with the Lightroom workflow challenges and fatigue you might encounter. With these tools, you will become much more efficient in your editing workflow with a little practice and know-how.
Forget the Mouse: Learn Keyboard Shortcuts
Adobe Photoshop Lightroom is a powerful tool once you unlock the keyboard shortcuts. For example, if you own an event business with a team, working on location is a breeze for an editor who can remember keyboard shortcuts. In the Catalog and Develop module, where they spend most of their time, workflow increases as it reduces the number of mouse movements and precision clicks. If you find yourself in this category or as a wedding photo editor, these four shortcuts are worth remembering for your next touch-up:
Copy/Paste Develop Settings
Quickly copy all your image adjustments, then apply them to another photo.
Windows: Ctrl + Shift + C / Ctrl + Shift + V
MacOS: Command + Shift + C / Command + Shift + V
Synchronization settings without going through the Synchronization Settings dialog
Cut out a step by copying and pasting selected image settings and applying them to a batch of photos.
Windows: Ctrl+Alt+S
MacOS: Command + Option + S
Select flagged photos
After grading frames for a shot, you can quickly select only flagged frames and discard all ungraded frames.
Windows: Ctrl+Alt+A
MacOS: Command + Option + A
Copy/Paste metadata
A very powerful way to quickly add IPTC metadata to photos for easy searching on compatible online platforms.
Windows: Ctrl + Alt + Shift + C / Ctrl + Alt + Shift + V
MacOS: Command+Option+Shift+C / Command+Option+Shift+V
While these are a few shortcuts you can apply to your workflow, there are hundreds more to learn. Thanks to Adobe, there's a handy PDF guide you can download that describes all the shortcuts for different areas of Lightroom Classic, including shortcuts for:
Working with panels
Browser modules
Managing photos and catalogs
Working in the Develop module
Compare photos in the Library module
Working with metadata and keywords in the Library module
Classification and filtering of photos
Working in collections
Work in the Slideshow module
Work in the print module
Work in the web module
Changing Views and Screen Modes
Use a secondary window
Use Help
You can view and download it here:
Edit faster in Lightroom using a custom console
There are keyboard skins that help Lightroom users by adding color mat overlays, which relabel keys with easy-to-read Lightroom shortcuts. Getting one of these inexpensive items is a passable way to increase your Lightroom productivity; however, this is not the best approach for serious editors.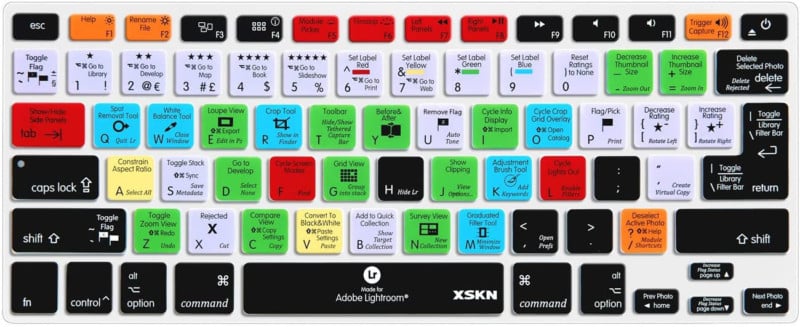 Hours of editing can involve repetitive strain on your wrists from all the micro-adjustments on the sliders. Luckily, there is a good solution that solves the daily editor's workflow fatigue. Enter Loupedeck. These products set themselves apart by introducing custom functions, jog controls, buttons (some have eight buttons dedicated to Lightroom presets), dials, and mouse clicks that can then be used to perform serious editing tasks.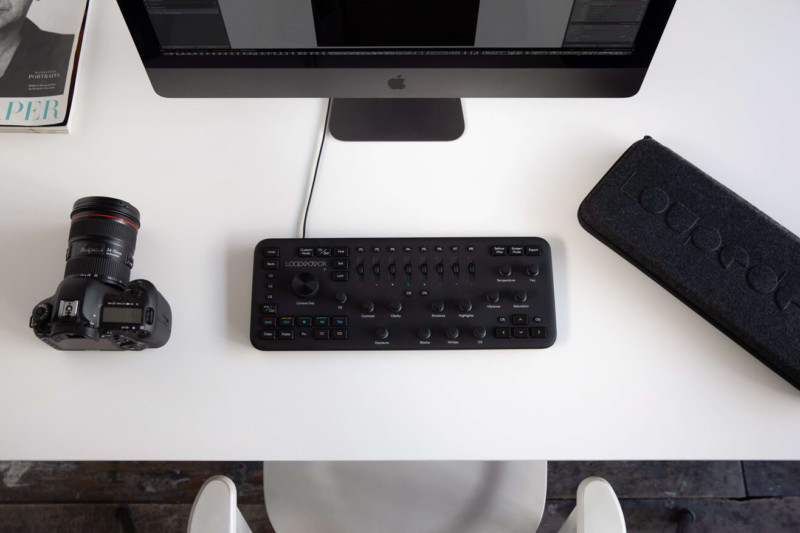 The different models on the market respond to different solutions; however, what makes them ideal for editors is their compatibility with a range of included Adobe Lightroom products. Thanks to the plugin software, programming the buttons couldn't be easier. Loupedeck provides a virtual copy of the hardware for easy programming. These settings can then be quickly applied to the work product, increasing the output level of your workflow.
Other photo editing consoles you can check out include the Loupedeck CT, the Monogram Studio Console (formerly known as the Palette Gear), and the TourBox.
Increase your workflow with a plugin
Plug-in integration allows third-party software to work seamlessly within Lightroom. There is no need to export the photo from Lightroom and then open the image in another software suite. With a quick Google search, you'll find hundreds of paid and free Lightroom plugins on the market to dramatically improve your workflow.
For example, Wordroom is a nifty image tagging keyword plugin that saves hours of manual work. Instead of manually adding keywords, the AI ​​tool specializes in machine learning to "see" and identify image content. A series of keywords will automatically be generated, allowing you to select and apply a series of words to your image. You can then use the Copy/Paste Metadata hotkeys (mentioned at the beginning of this article) to apply those keywords to similar images in your Lightroom catalog.
There's a universe of Lightroom plugins out there, so dig around and you're bound to find something you didn't know you needed to take your workflow to the next level.
What else can you do to improve your Lightroom workflow?
Without the help of AI in the cameras to override the editing process (perhaps in the distant future), we have to rely on ourselves to sort and edit our work. While this process may be laborious for some, there are other tools and ideas you can implement to make your Lightroom workflow more efficient.
Have you thought about entrusting your editing workflow to an agency specialized in your photographic genre? With a la carte photo editing services, mental health and productivity reach high levels, allowing you to spend time doing the things you want to do. For many this may mean more time with family or friends, or for some the opportunity to take on additional photography work. Either way, check the style and quality of the edit to make sure it meets quality standards.
Another alternative would be to upgrade your workstation. As one of the more expensive options for augmenting your Lightroom workflow, it's not for everyone. However, by investing in a faster processor, you increase hardware speed, which makes a huge difference to workflow when processing large batches of RAW files or exporting.
Finally, if you want to become a better editor and increase the speed of your workflow, you need to invest in yourself. Take an online Lightroom course, watch Lightroom editing tutorials on YouTube, or attend an in-person editing workshop. By learning Lightroom shortcuts, understanding plugins, and putting your knowledge into practice, you'll be well on your way to becoming a faster editor.
---
About the Author: Leigh Diprose is a full-time business owner and writer in the imaging industry with a passion for sharing knowledge. The opinions expressed in this article are the sole responsibility of the author. His published work has been featured by top imaging wholesalers and major imaging retailers in over 14 countries.
---
Picture credits: Header photo by Donatello Trisolino