The LG DualUp is unique. It's a massive 31.5-inch double-height 2,560 by 2,880 screen that's the equivalent of two 21.5-inch screens combined into one. It's really huge and lives up to the promise of a 'productivity powerhouse'.
The DualUp was announced in late 2021 and immediately caught my attention due to its unusualness. It has a unique rectangular 16:18 aspect ratio which LG says is completely new to the monitor market and I can't argue with that; this is definitely the first time I've seen something like this. After using it for a few weeks, I have to say I'm really impressed, and for the most part, it's an easy recommendation for the $700 asking price.
Design and build quality
The DualUp is built like just about any monitor of its kind these days. It's lightweight thanks to its mostly plastic construction and comes with a really nice monitor arm that includes cable management and connects to most desks via a clamp. The arm itself is very good quality and is one of the best parts of the set. Usually monitors come with a standard table stand, but LG has gone above and beyond with this all-metal arm.
It can be arranged in a variety of ways and thanks to the offset design and the fact that the DualUp is so huge, I never really see the arm itself when working. I noticed that the arm is a bit of a fingerprint magnet, but since it's going to be behind the screen, that's not something that bothers me.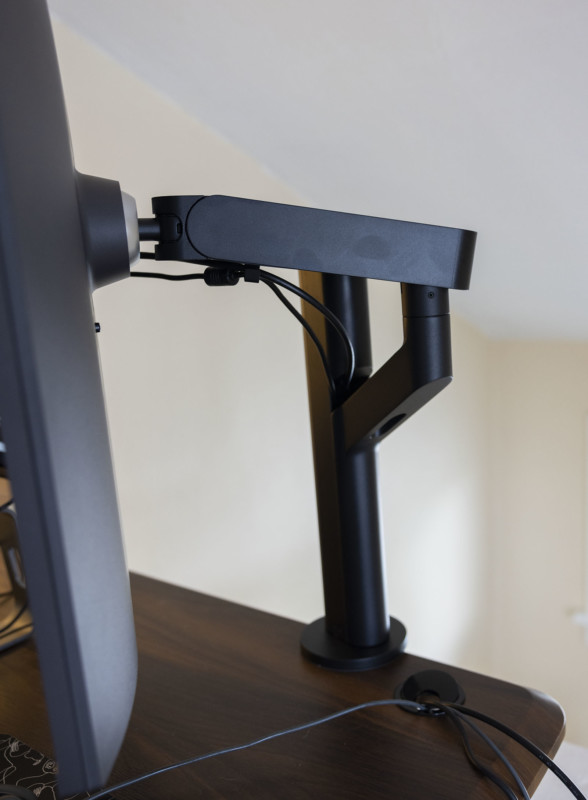 The back of the display offers a very nice assortment of I/Os. It includes two HDMI ports, a DisplayPort, 3 USB ports (one upstream and two downstream), as well as a USB-C port that can be used for display or a 90-watt power supply.
Screen controls are accessed via a control nipple that hides below the screen when you've oriented it vertically or sideways if you choose landscape orientation – yes, it supports either other.
As mentioned it can be set up in either landscape or portrait orientation but during my time with it I kept it exclusively in portrait orientation as it was easier to manage its gargantuan size and I also think it's a bit weird to see the single thick bezel on the screen anywhere other than the bottom.
Display quality
The DualUp can be configured as a giant screen or set to a vertical split view that makes it work as if it were two separate screens, which can be nice if you don't think you'll need the whole thing. space for a single task. I haven't used this feature much myself because I wanted to easily decide how much space I wanted to use for given tasks. Sometimes I wanted a full screen view of an email or story I was working on, sometimes I split it into halves or even quarters with chat windows or different browser views, etc.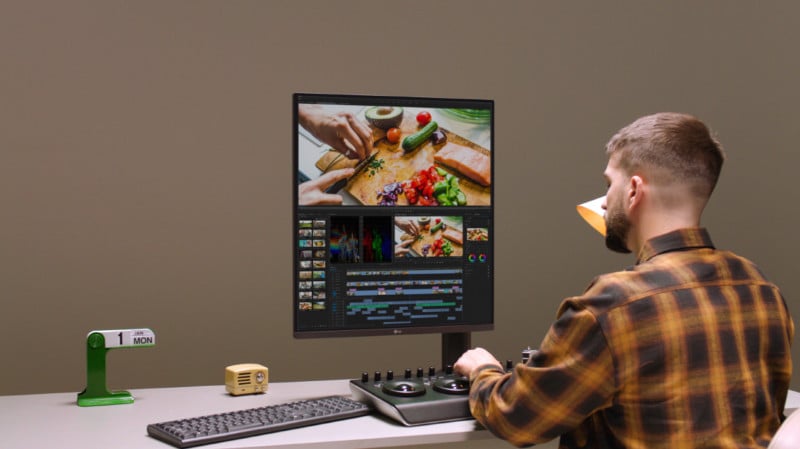 The LG Nano IPS display peaks at 300 nits, which is lower than what we want to see for HDR workflows. LG claims HDR support, but we argue that HDR requires at least 400 nits of brightness and I argue that you don't start seeing true HDR until you hit 600 nits.
That said, I didn't find the brightness to be an issue, I actually think it seems to be quite bright in use. There have been instances where I found myself squinting a little while looking at a mostly white page like an Outlook inbox.
When I first saw the DualUp I was worried that the pixel density for the size wouldn't be enough, but after using it I find it's sufficient. It's not 4K, just QHD but there's a lot to work with here.
LG claims 98% DCI-P3 coverage, and it comes close in our testing.
Using our Calibrite color checker, we found that the screen covered 100% sRGB, 95.3% DCI P3, and 87.6% Adobe RGB. It's respectable, but not at the caliber we want to see for a true color-accurate display. That was never LG's goal, and I think this display is best suited to the type of creator who isn't looking for perfect colors. Vloggers, casual photographers, and creators who create content exclusively for the web will be perfectly happy with the performance.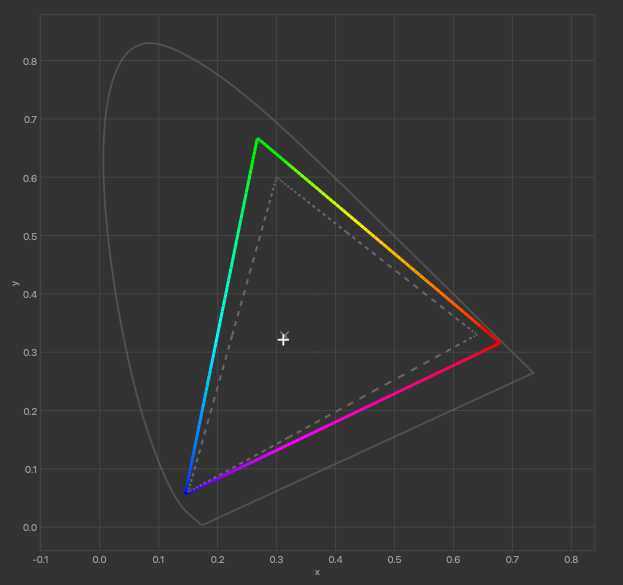 While I'm happy with the color accuracy for the intended use, I'm less happy with the LG Dual Up's panel uniformity. While the right side of the screen looks good, there were issues on the left side. It's certainly not a deal breaker and panel uniformity inconsistencies on an IPS display like this aren't uncommon, but I was hoping for better.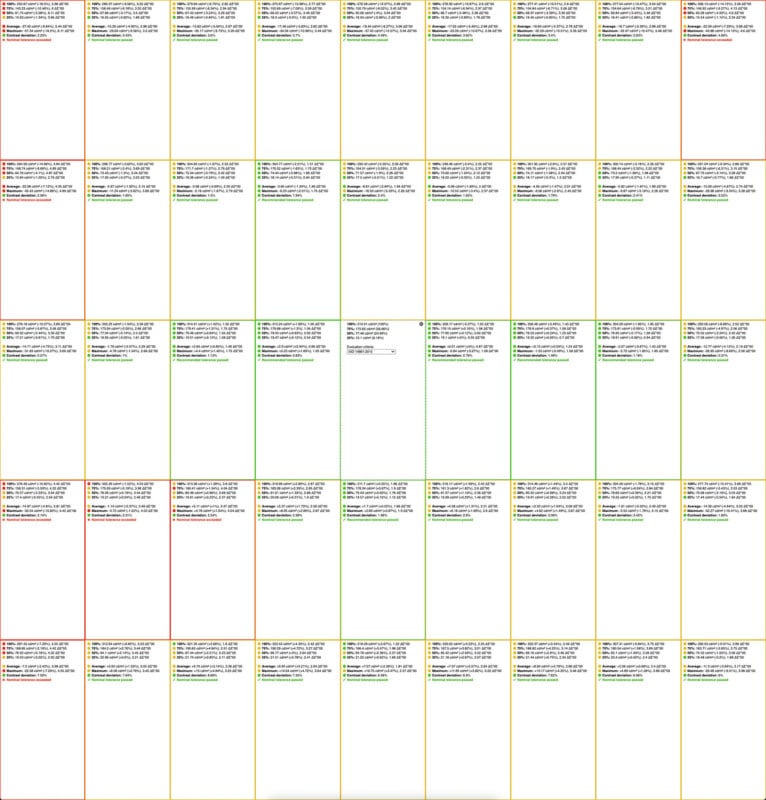 Panel uniformity is also kind of a roll of the dice: your results may differ from mine. That means you might get a flawless display, but you might also get one that performs less well.
User experience
If there's one thing the DualUp does well, it's productivity. I don't think you can really appreciate the size of this screen until you see it in person and the amount of workspace it offers is way beyond that. It's large, but the footprint it takes up on a desk isn't too obscene, especially when you mount it in portrait orientation.
The only issue I have with it is that to really use the whole screen, you have to be prepared to wring your neck a bit. Even when the base of the monitor almost touches the desk, I still have to physically look up to see the top quarter of the DualUp's sizable screen. This means that I tend to put the most pressing things I'm working on halfway down and below the screen and keep the secondary stuff above.
It's kind of funny that my usability complaint boils down to the fact that it's almost too big, but that's a price I'm willing to pay for that much screen real estate. This problem could be solved by placing the monitor further away from my position, but the desk I tested it on isn't particularly deep, so that wasn't an option.
The biggest and baddest monitor on the market
The LG DualUp is really, really big. It's a lot bigger than I expected and it offers a massive amount of screen real estate that really makes it live up to LG's promise of being a productivity powerhouse.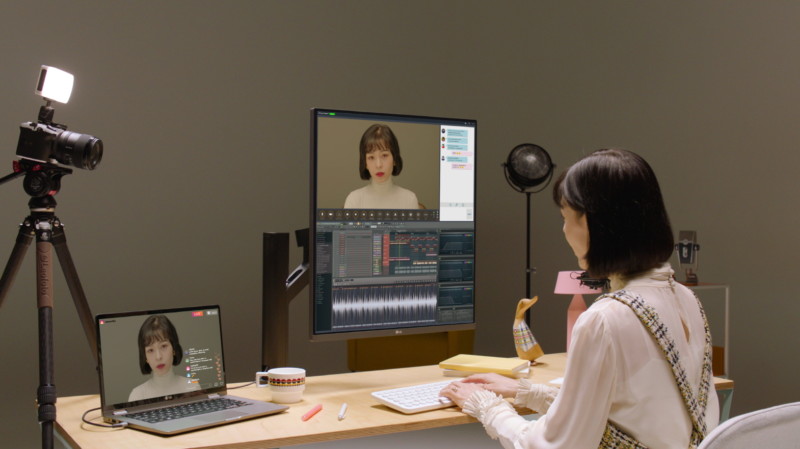 I think it's generally bright enough for most people although it can't display HDR content and although the screen uniformity and color accuracy aren't good enough to satisfy a colorist, that's certainly good enough for most internet-focused content creators.
I also think the DualUp is exceptional for general office work. The amount of space you have to work with makes managing multiple tasks extremely easy, and the monitor is flexible enough to be either one giant screen for detail work, or two or more when you need to display a lot of information at a time.
Are there alternatives?
The LG DualUp is truly in a class of its own. There really isn't another monitor like this, especially if you're considering something that offers this kind of size, pixel density, and included monitor arm for $700.
You can take two Asus ProArt PA278QV or BenQ PD2700Q monitors and lay them on top of each other, but this will require a specialized monitor arm which must be purchased separately and you won't be able to get a 16:18 transparent. aspect ratio display space like you can on the DualUp.
Should you buy it?
Yes. The LG DualUp monitor will absolutely make you more productive. As long as you don't expect to do HDR video work and need perfect colors, the workspace benefits on the DualUp for the asking price make it hard to beat.