What are PDF files?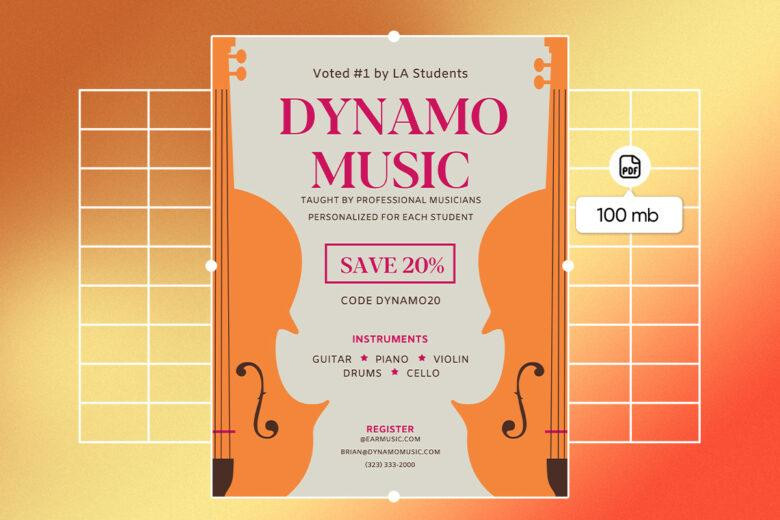 First thing is first: what exactly are PDF files? And why are they better than Word or Excel documents?
Well, let's start with the definition. The PDF (Portable Document Format) file is one of the most popular file types today. It is commonly used in countless industries, from law to real estate. And if you're a student, you've probably downloaded countless PDF files containing class materials, presentations, and study guides.
PDFs gained prominence in 2008 when Adobe released them as an open standard, leading to their widespread use today. They offer a few key advantages over other file formats, including:
PDFs are surprisingly portable
As the name suggests, PDF files are portable. Even though you have to compress the PDF file size, they beat other formats hands down. You can transfer, send or move files without sacrificing image quality or losing your format. Think about how many times you've tried to open Word documents, only to see warnings about missing fonts. Or missing images in Powerpoint presentations. With PDFs, you can share files with anyone without losing fonts, images, tables, or formatting.
PDFs are universally compatible
PDFs are compatible with all types of applications. Most operating systems come with pre-installed applications to quickly open PDF files, while browsers can open and view PDF files without wasting time. So if you're sending online media kits to customers, you won't have to customize your file format for different applications.
PDFs are a reliable file format
More importantly, PDFs are reliable. Whether your PDF contains images, charts, tables, or rich media, it will always display data the same way. Even if you open a PDF on a smartphone or tablet, you can still see the information exactly as it was meant to be displayed.
How big should a PDF document be?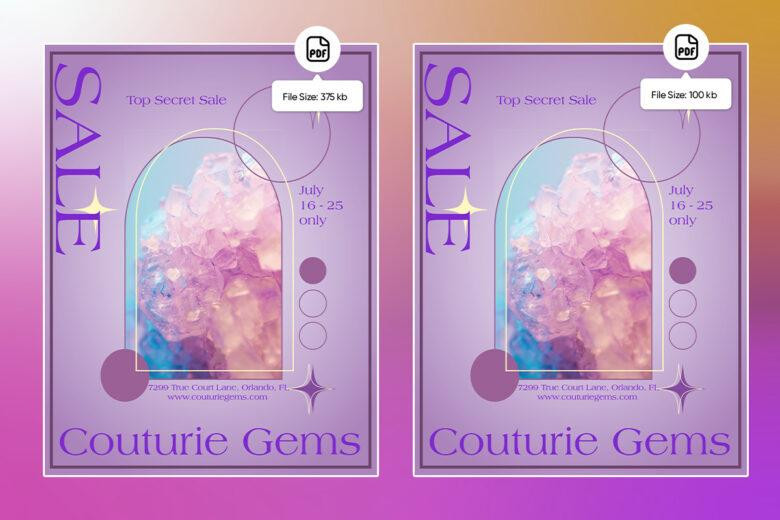 Now that we're all PDF geeks here, there's probably one burning question left unanswered: how big should your PDF documents be? In general, unless you want to use PDFs for high-quality print jobs (think business cards or glossy brochures), your PDF file should be no larger than 1MB. You can even reduce PDF size to 100KB, but more on that in a moment.
For your information, any PDF over 1MB is considered a large file. When this happens, you will need to compress the PDF file size. Compressing PDFs makes it easier to send files and upload them online, while saving storage space and preserving image quality. Ideally, you'll want to reduce the size of the PDF to 100KB.
Why are PDF files so large?
Unlike other file types, PDFs can contain significant content. Your document may contain images, fonts, embedded hyperlinks, videos, and other types of content, all neatly packaged in a PDF file that can be viewed on any system without any formatting issues.
This content adds up. If you accommodate a lot of content in a PDF file, this contributes to the overall file size. Your PDF will still retain its formatting and quality, but the size of your PDF will matter.
If you're getting a warning from your app that your PDF is too large, you're far from alone. PDFs are the recommended file format when uploading files for many online applications. You can also use PDF files when uploading government IDs, college applications, or tax documents. These PDF files contain important data, which may exceed the recommended size for downloading PDF files from these websites.
3 Easy Ways to Compress PDF Files
Let's face it: dealing with large PDF files can be incredibly frustrating. Uploading and downloading can take forever. And if you're trying to email a big PDF, forget it.
The good news? It's easy to compress PDF file size in seconds without losing quality, even if you don't have any previous editing experience. Here are some easy ways to compress your PDF files so you can avoid the headache.
Use Save as instead of to safeguard
Need a quick fix for your PDF file? When saving, compress the PDF file size by choosing Save as instead of to safeguard.
In many applications, these two functions are different. While they both create new files on your device, Save as always creates a new file. Meanwhile, to safeguard compiles your changes into the original PDF file. This means that the original PDF remains intact, including its file size.
As you make changes, the file size continues to increase each time you click to safeguard. When you use Save asyou will create a new clean and optimized PDF.
Download a dedicated PDF editor
All major PDF editors come with features to reduce the size of your PDF file with just a few clicks. You have just uploaded your file, choose the Compress PDF and save your newly compressed file to your computer.
Use an online PDF compression tool
If you don't want to download third-party editing software, there is a third solution: use an online PDF compression tool to reduce your file size.
With Picsart you can easily reduce your PDF file for any application. All you have to do is upload your original PDF file, compress the file, and upload the optimized file. You don't need to download any third-party software to use Picsart Quicktools.
Reduce PDF file size online using Picsart Quicktools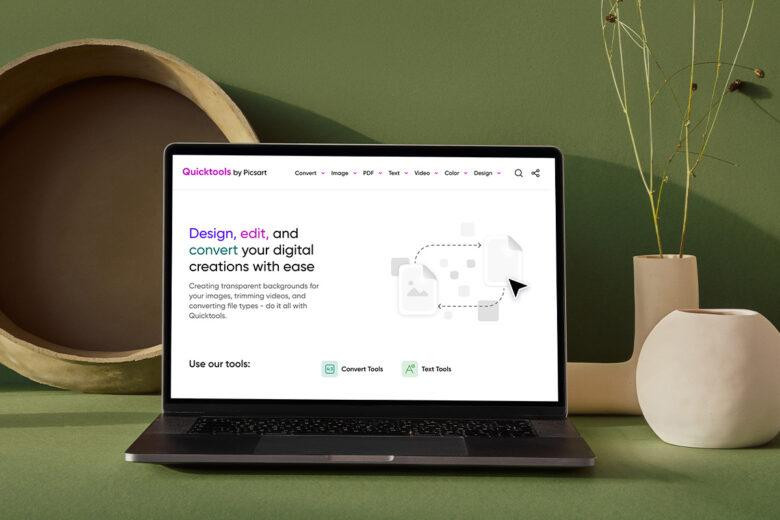 Wondering how to reduce PDF file size online? Two words: Picsart Quicktools. When you use Quicktools for your editing needs, you can quickly compress PDF files with just a few clicks, even if you're not a seasoned graphic designer.
When you need to convert files or resize images quickly, Quicktools can save the day. Plus, you won't have to spend hours downloading third-party editing tools just to compress files.
Whether you're looking to remove backgrounds, generate fun fonts, or crop videos, Quicktools has everything you need to bring your creative vision to life. And if you need to fine-tune your PDF, Quicktools offers easy-to-use PDF tools to make your life easier.
How to reduce the size of a PDF file for free online
Compressing your PDF files may seem tedious, but it doesn't have to be. Whether you're uploading marketing materials for your small business or submitting assignments, Picsart makes it easy to reduce your PDF file size in just seconds.
Ready to start? Here's how to reduce the size of a PDF file without losing quality using Quicktools.
On the Web:
1. Open the Picsart Compress PDF tool.
2. Drag and drop your PDF file into the dotted area. Or click on Select files to download an oversized PDF from your library.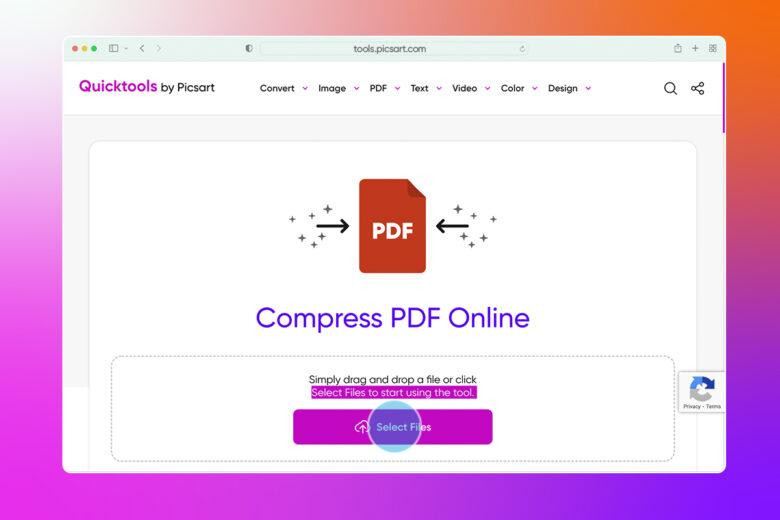 3. Once you've uploaded your PDF, sit back and let the PDF compression tool do its magic. In the toolbar of the right panel, you will be able to check the before and after size of your PDF file.
4. Click on Download PDF files to download your newly compressed PDF file. The next time someone wonders how to reduce the size of a PDF file, you'll know what to do. Send them here.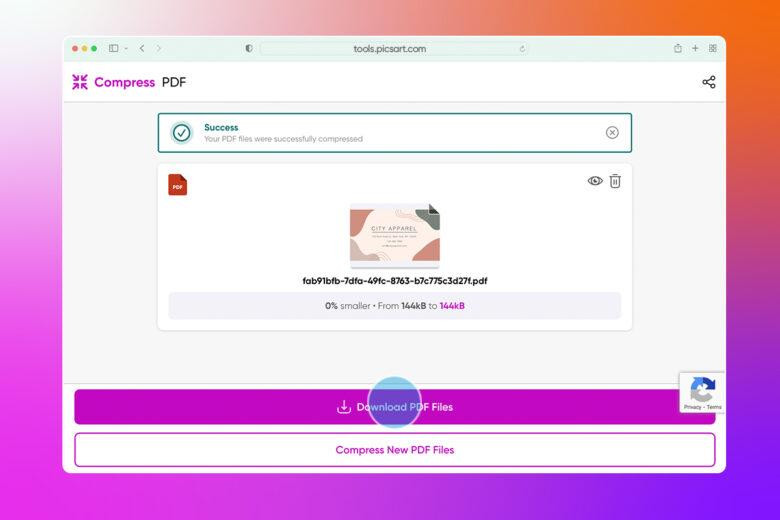 Create at the speed of culture
Picsart is a complete ecosystem of free content, powerful tools, and creator inspiration. With one billion downloads and over 150 million monthly active creators, Picsart is the largest creative platform in the world. Picsart has collaborated with major artists and brands like BLACKPINK, Taylor Swift, The Jonas Brothers, Lizzo, Ariana Grande, Jennifer Lopez, One Direction, Sanrio: Hello Kitty, Warner Bros. Entertainment, iHeartMedia, Condé Nast, and more. Download the app or start editing on the web today to enhance your photos and videos with thousands of quick and easy editing tools, trendy filters, fun stickers and shiny backgrounds. Unleash your creativity and go gold for premium benefits!