DJI announced the RS 3 and RS 3 Pro gimbals that feature a new automated axis locking system, the third-generation RS stabilization algorithm that improves performance by 20%, and one-click calibration.
The RS 3 system is available in two levels, the RS 3 and the RS 3 Pro. The RS 3 features improvements that make it faster to set up and use with 12 hours of battery life, while the RS 3 Pro brings a suite of extra features, including a LiDAR focuser taken from the DJI Ronin 4D which grants fast autofocus to manual focus cinema lenses.
The DJI RS3
The RS 3 weighs 2.8 pounds, which DJI says is light enough to easily operate with one hand. It has a tested payload capacity of 6.6 pounds which it says is enough to support the majority of consumer devices.
DJI touts the RS 3 as having a set of new features that get filmmakers up and running as quickly as possible. It has a redesigned axis locking system that makes setup much faster. Once the gimbal is turned on, the axis locks release and unfold the gimbal automatically. Pressing the power button sends the device into sleep mode, which DJI Says makes turning the device on, putting it away, and moving it around much faster.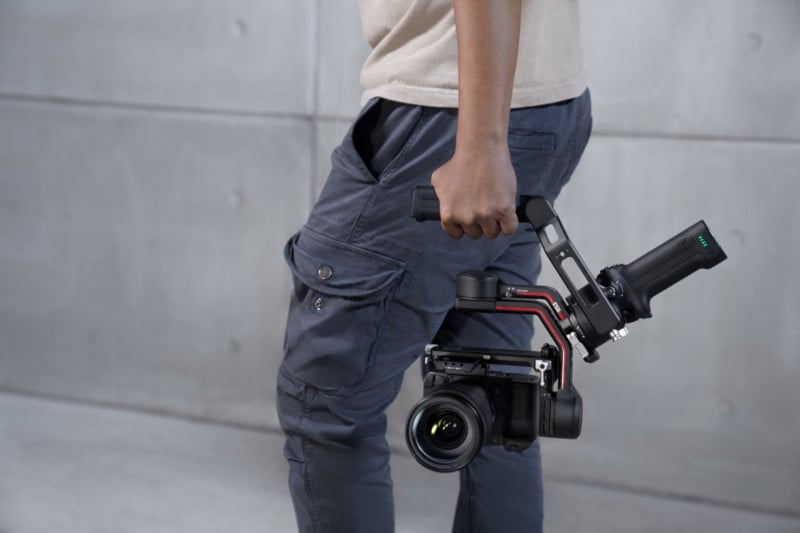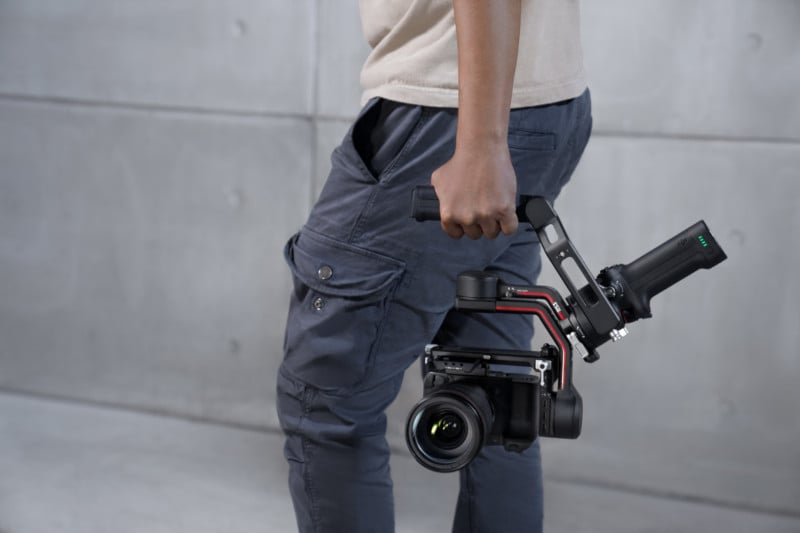 The company says the RS 3 removes the need for repetitive balancing with position memory via quick-release plates, which it claims allows for quick mounting with perfect payload balance. The RS 3 also has a Bluetooth shutter release that supports automatic connection with a camera, eliminating the need to connect a cable.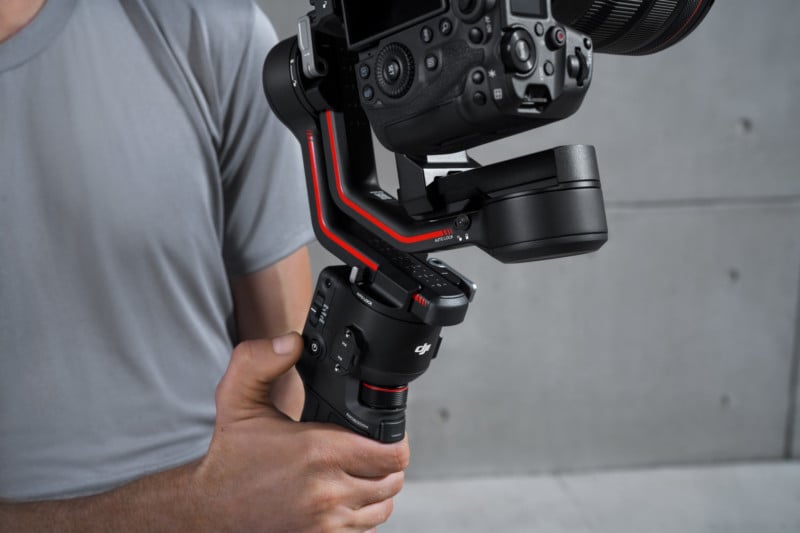 The third-generation RS stabilization algorithm improves the RS 3 over the RSC 2 by 20%, which it claims is most noticeable when the gimbal is used at low angles, while running, or while shooting from a moving vehicle. The RS 3 also supports SuperSmooth stabilization with lenses with focal lengths up to 100mm.
DJI says the RS 3 is easier to set up thanks to its new 1.8-inch OLED color touchscreen, which represents an 80% increase in working area over the previous generation gimbal. DJI says gimbal configurations can be done directly without logging into the mobile app, while the user interface and interface logic have been redesigned to put all controls front and center. This includes a physical gimbal mode switch that operators can slide to switch between pan-follow, pan-and-tilt follow, and FPV modes instantly.
The RS 3's new battery offers up to 12 hours of battery life and supports PD fast charging at 18 watts. The battery can also be charged independently or during use.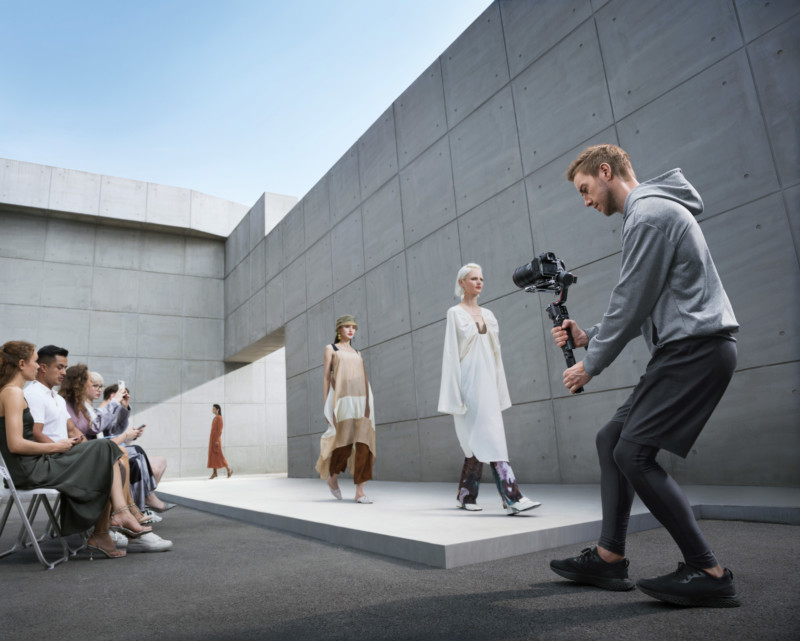 The standalone DJI RS 3 is available starting today for $549.
The DJI RS 3 Pro
While the updates to the RS 3 are notable, those working in even more demanding environments have the option of the RS 3 Pro.
The arms of the RS 3 Pro are constructed from a single piece of uncut carbon fiber which DJI says makes it lighter and stronger than the articulated carbon fiber material used on previous stabilizers. The company says it has also extended the arms to allow for more balancing space required for professional cameras such as the Sony FX6, Canon C70 and RED Komodo.
Additionally, the structure has been optimized to maintain its weight at 3.3 pounds with a tested payload capacity of 10 pounds.
It has the same automated axis locks, Bluetooth shutter button, 1.8-inch OLED touchscreen and gimbal mode switch of RS 3.
What really sets the RS 3 Pro apart is its ability to turn a manual focus cine lens into an autofocus lens. The RS 3 Pro has the ability to use the same LiDAR focusing technology found in the Ronin 4D in the DJI LiDAR Range Finder (RS). DJI claims that this accessory is capable of projecting 43,200 telemetry points in an indoor area of ​​14 meters. It combines with a high torque focus motor to give autofocus capabilities of manual lenses.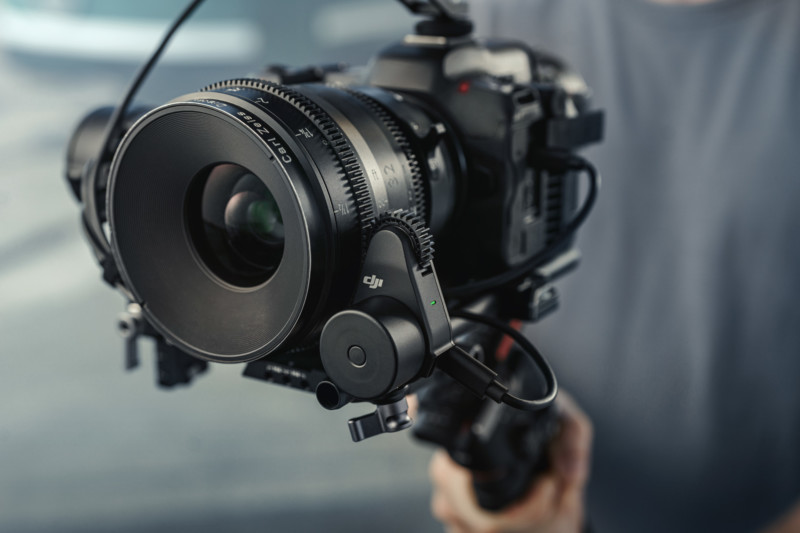 DJI says the LiDAR rangefinder features a DJI-developed chip identical to the one used in Ronin 4D and a built-in 30mm camera that boosts ActiveTrack's computing power by more than 60 times, creating what it calls ActiveTrack Pro.
DJI also says it has highly sensitive target identification and tracking capabilities that are accurate enough to allow professional cameras to maintain a stable and clear shot even in dynamic scenarios.
DJI transmission
DJI has also developed its first independent wireless video solution that combines reception, monitoring, control and recording into one.
O3 Pro transmission technology allows the transmission system to deliver 20,000 feet of ground transmission distance with ultra-low end-to-end latency, which DJI positions as a huge improvement over traditional WiFi transmission . Video is transmitted at 1080p 60 frames per second and provides live audio monitoring at 16-bit 48 kHz.
DJI has also added a DFS band in addition to the traditional 2.4 GHz and 5.8 GHz settings, which offers 23 channel options that provide crews with more compliant and interference-free transmission channels. A built-in frequency scanner automatically scans the current electromagnetic environment to find the best wireless channel, instantly changing channels if needed. If necessary, users can also manually select an appropriate channel to avoid interference between devices.
Supporting its new wireless video solution is a bright seven-inch 1,500-nit remote monitor that supports one transmitter with multiple receivers, as well as two transmission modes to meet different transmission needs. The monitor has a built-in gyro sensor that acts as a standalone motion controller for the RS 3 Pro and, when combined with the Ronin 4D grips, the operator of an RS 3 Pro stabilizer can control the gimbal, focus, exposure, and start/stop recording with both hands.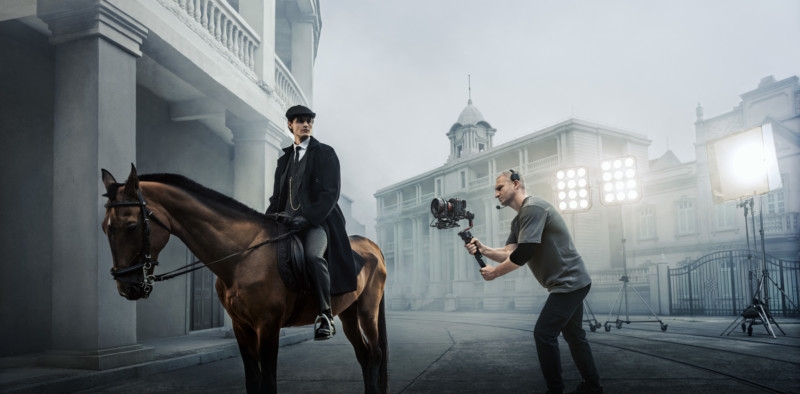 The DJI RS 3 Pro is available starting today for $869. The DJI Transmission Combo is available for $2,499 and includes a DJI Video Transmitter, a DJI High Brightness Remote Monitor, and a host of accessories.