This blog post is about Scooby-Doo Daphne costume ideas.
Ready for a spooky night with the gang? why not dress like the iconic Daphne Blake from the classic cartoon "Scooby-Doo! Where Are You?" She's sweet, sassy and always fabulous!
This would make an awesome costume if you are attending an event with a group of friends who want to go as the Scooby-Doo gang.
There are so many ways to pull off this look for a costume event. The best thing about this costume is that it is very easy to DIY and assemble by yourself. So if you're looking for creative ways to achieve the Daphne Blake look, keep reading.
Daphne Costume Ideas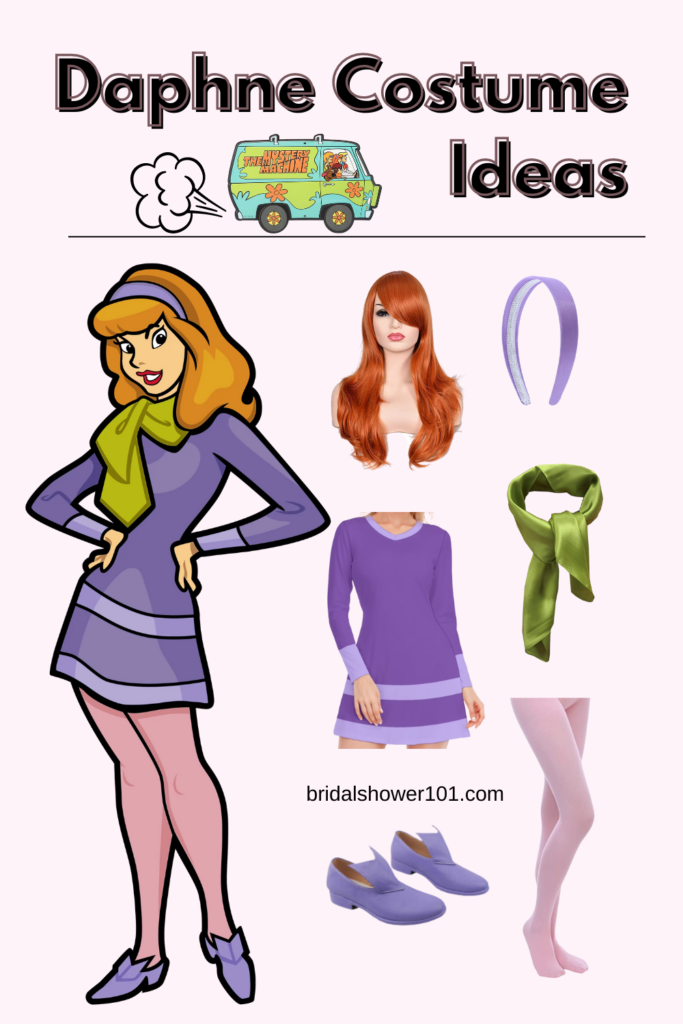 This post may contain affiliate links, which means that I will receive a commission if you purchase through my link, at no additional cost to you. Please read the full disclosure HERE.
We decided to divide our Daphne Blake costume ideas into four parts. The first three sections will be different ways you could accomplish her look by having a cosplay, DIY, or store-bought costume.
The last part of this article will explain how you could style this costume with your spouse, your best friend or even a child. After reading this, you'll have all the inspiration you need to be Daphne this Halloween.
Daphne cosplay costume ideas:
If you really want to get into character and get an authentic idea of ​​how you want to achieve the Daphne look without being too cheesy, then you might want to try our cosplay options.
We love cosplay because you don't necessarily have to have a reason to dress up, you could be Daphne for a day just because you want to.
It's the best choice if you're going to a convention or really want it to look realistic, then these items are just what you need.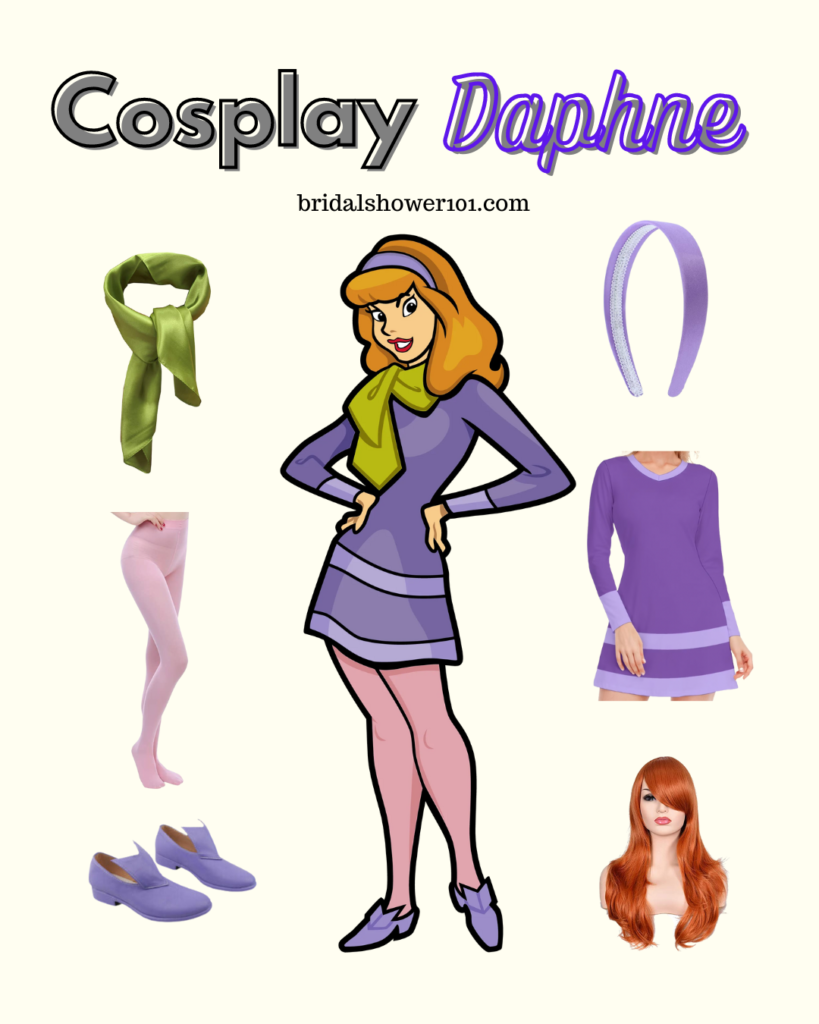 The image above is a guide for a Daphne cosplay costume. Although it may be the most expensive option, this look is the closest to reality. We have also made sure that these items are reasonable just in case you are on a budget.
Starting with the headwear, there's a stunning red wig on Amazon that perfectly represents Daphne's style. He has his signature bags and everything! Then top it off with a lavender headband and you're ready for the hair.
On the accessories side, you have to have a green silk scarf carefully tied around your neck to look like Daphne. The key to this is making sure you have the correct green color. Having a darker or too bright green scarf could completely throw off the costume. The exact color you would want for the scarf is chartreuse or lime green.
Now on to the shoes! The shoes pictured above are the best realistic style for Daphne. These are 70s inspired lavender loafers which are the cutest shoes for a Daphne costume. These shoes are available on eBay and they are made to order.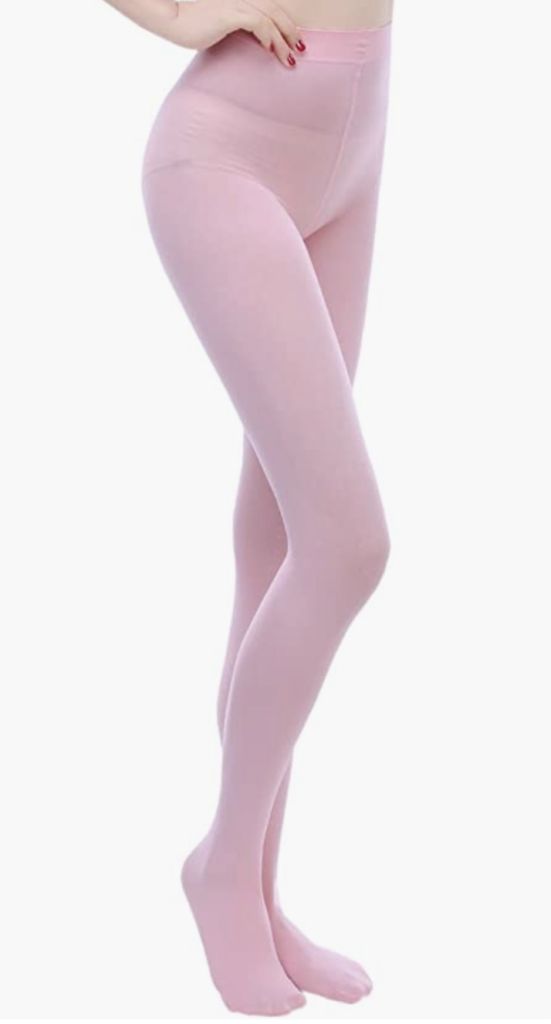 As for the actual outfit, we have the exact items for you. Here is an exact replica of Daphne's dress for your cosplay costume. We love this dress option on Etsy because it's the same dress Daphne is wearing, and it's size included (XS to 5XL!)
What sets the cosplay costume apart from other costume options are the details. We highly recommend having pink tights with a Daphne costume as they correctly represent her clothes from the show. Any light pink tights will do for this costume. This little detail will make a big difference in your cosplay.
Do-it-yourself Daphne costume
Here's how you could DIY your Daphne Halloween costume. Take a look at these items you may already have at home and think of creative ways to make them work to create an amazing Daphne look for Halloweekend or a last minute Halloween costume.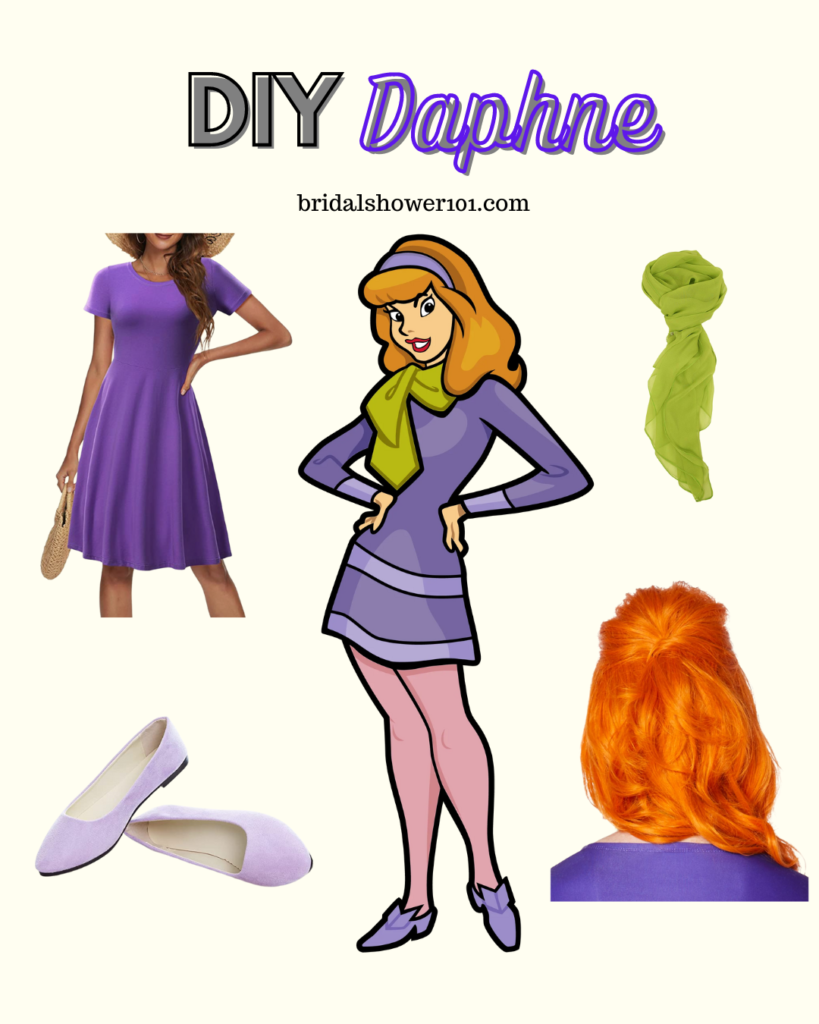 If you already have some of these items, you'll be well on your way to having the perfect DIY Daphne costume. If you have a purple dress and already have bright red hair, then you are already clear for this costume. If not, here are some quick and affordable items you can buy for Amazon.
If you want to add extras to this look, you can do purple shoes and a green scarf. You can always offset those with simple black flats and by borrowing someone's lime green tie. You could even make a lavender shirt and shorts with red hair, and people will understand.
Full Daphne Costume
You know you skip the extra hassle of DIY and cosplay and get a complete Daphne costume, right? Being Daphne for Halloween is a lot easier and cheaper than you think.
We think it would be great if you plan to be Daphne with a group of friends or with a significant other. This way your costume is easy to tell, but without all the extra bells and whistles.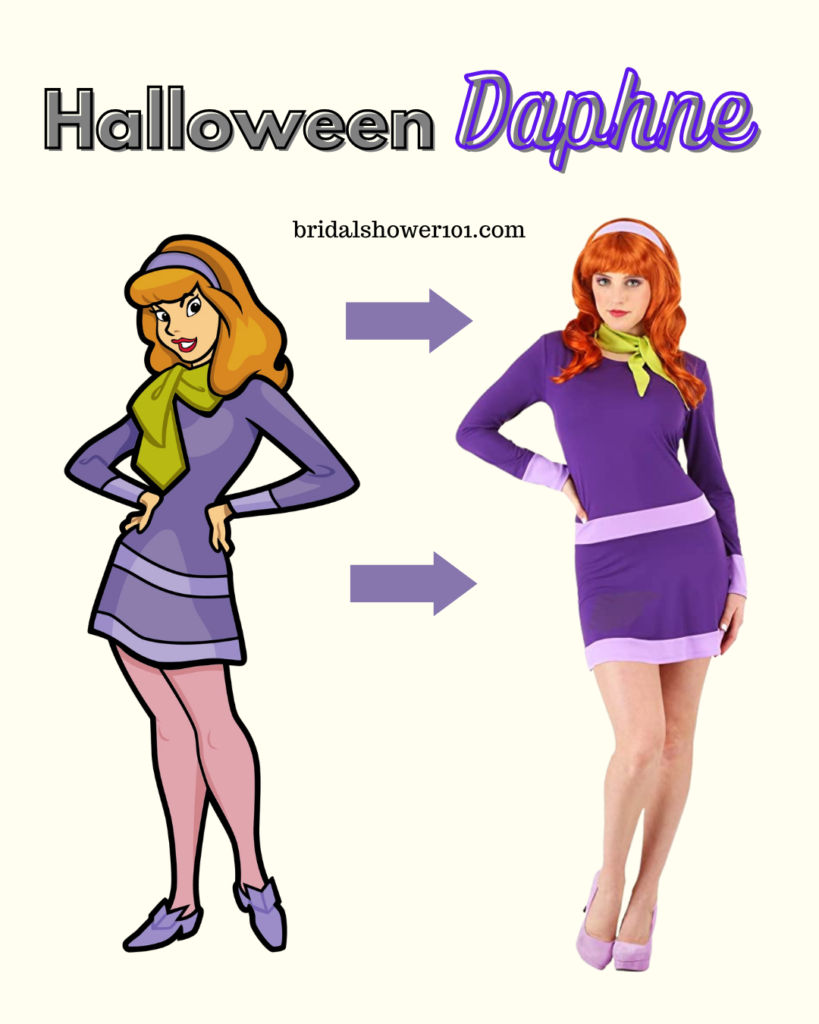 If you're a perfectionist, you might find store costumes a bit cheesy. The quality may not be as good as cosplay or DIY, but you can't beat the price and the items you receive.
Here is an example of an all-in-one Daphne Halloween costume. Please see item details to see what comes with this costume set and to determine what is sold separately.
For example, in the example shown above. It comes with the DRESS, THE HEADBAND AND THE SCARF… The wig, the shoes, the tights, etc. are NOT included.
Daphne costume makeup
We wanted to include some makeup ideas for a Daphne costume. The cosplay makeup is spot on so we recommend a red or pink lip, lashes and bold eyeshadow since Daphne's era was in the 70s. The best Daphne makeup tutorial we could find was from Niki Crow on Youtube. Check out Daphne's makeup tutorial HERE.
Fred and Daphne costume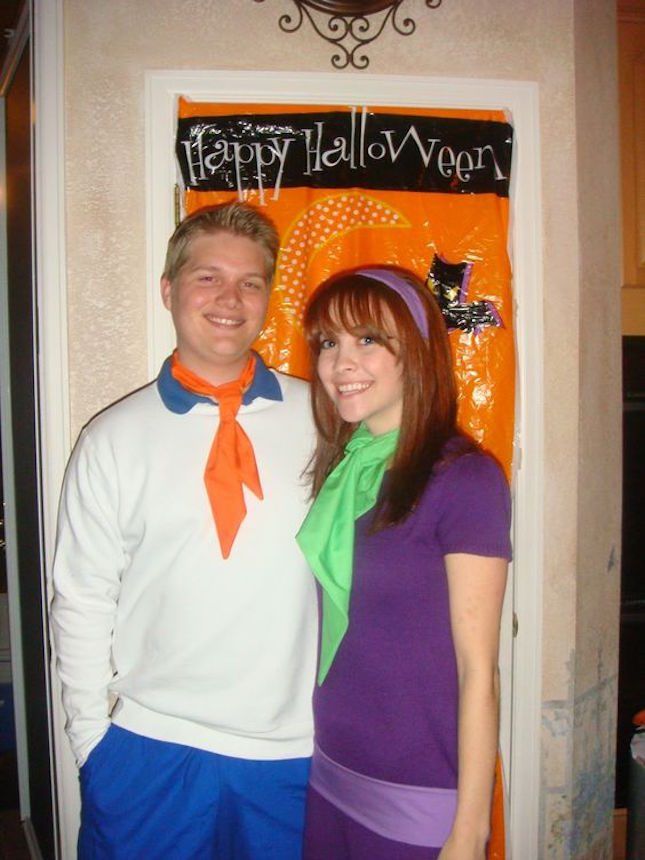 If you want to wear your Daphne costume with your significant other, an addition from Fred would be amazing. We all know that Fred and Daphne were in love, so this would be a great idea for you in your boyfriend/husband.
Velma and Daphne costume
You and your best friend could be Daphne and Velma this Halloween. Just two smart girls visiting haunted castles, looking for ghosts and solving spooky mysteries. It's the perfect duo for Halloweekend.
Scooby and Daphne costume
There are so many ways to get Scooby in on the fun with your Daphne costume. The first way is pictured above with a friend wearing a Scooby Doo costume.
Another way is to have a stuffed Scooby. Or if you're a mom, you could dress your baby up as a Scooby. If you have a dog, specifically a Great Dane.
.