A little over a year ago, Valve announced a portable gaming PC called Steam Deck. In February 2022, those who pre-ordered the device began receiving the portable devices that have since had a huge impact on the gaming world. What if you could do more than just play video games on the Steam Deck? What if it could run Lightroom or Photoshop? Would it be possible to edit photos on it?
What you need to understand about this device is that while there are many other handheld consoles out there, the Steam Deck is actually a complete portable gaming computer packed into a Nintendo Switch-like chassis. The system comes preloaded with a Linux desktop backend that runs Steam for actual gaming. But thanks to the availability of a desktop mode, you can actually download and run just about any combination of Linux apps natively, including apps like GIMP and Darktable.
Using Linux on a Steam Deck to Edit Photos
Naturally, Linux-based editing apps were the first thing I tried. Luckily, these apps are free, but they come with a pretty steep learning curve (especially if you've never worked with Linux before).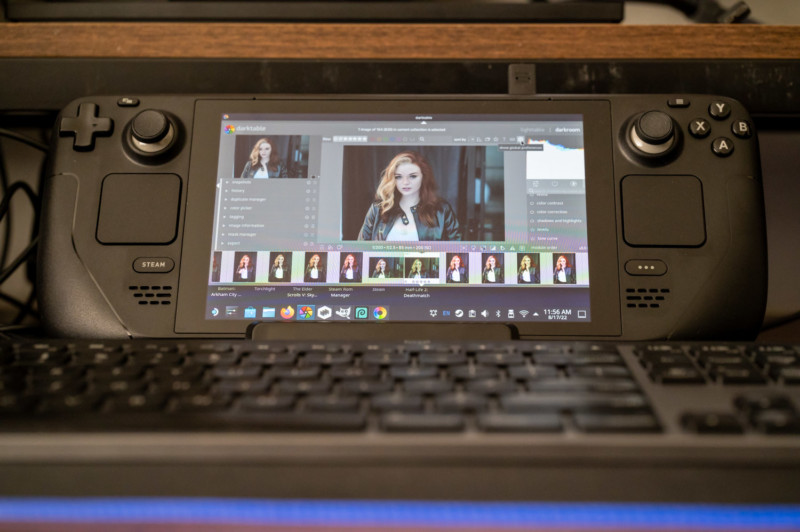 The Steam Deck technically comes with everything you would need to run it as a computer, including a virtual keyboard that pops up and operates the device's touchscreen as well as two touch-sensitive trackpads located on both sides of the screen. Both of these trackpads effectively act as a full-size trackpad on a laptop.
By leveraging these built-in tools and the Linux-based apps, I was able to load a recent shooting session through the Steam Deck's memory card reader and begin editing the footage using Darktable, GIMP, and RawTherapee. I actually played around with a few other apps as well – all of which had quite a steep learning curve – but despite that I was able to delete a session, do some basic editing in Darktable, and then use RawTherapee and GIMP to actually do some pretty basic Photoshop-style edits, including crop, dodge and burn, heal, clone, and color adjustments.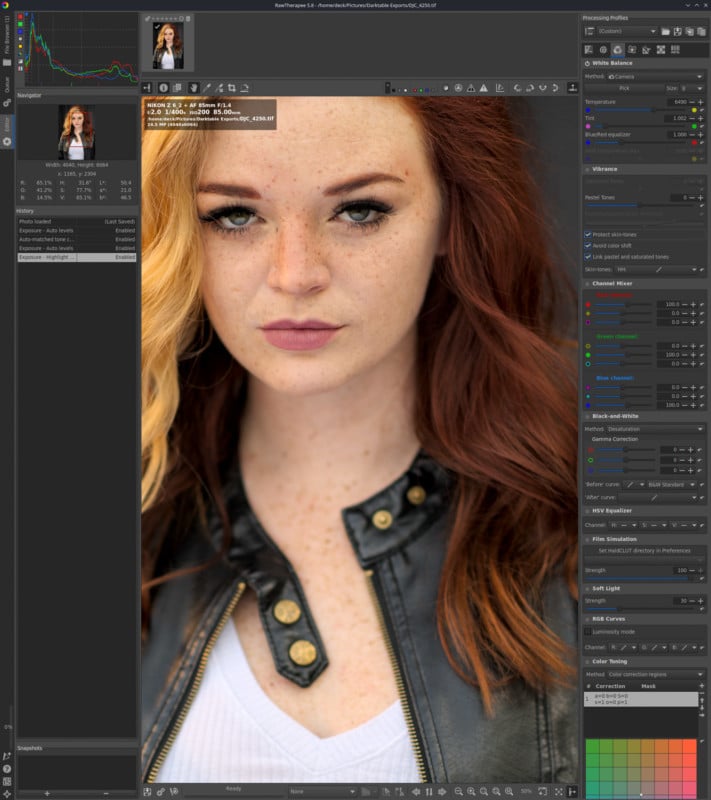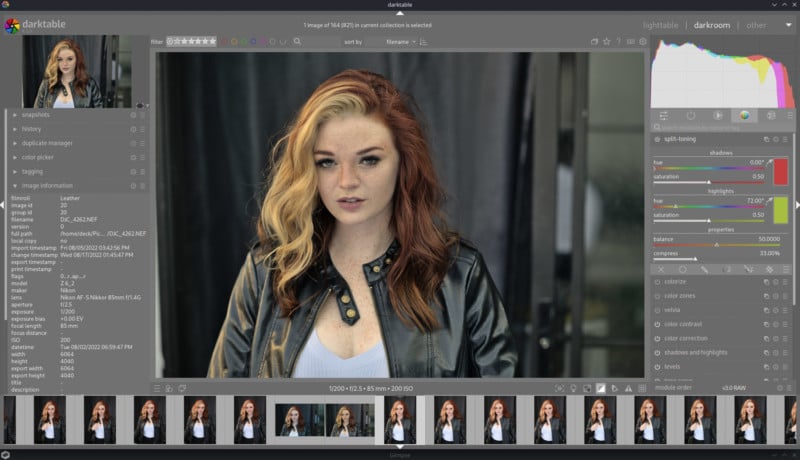 To say it was cumbersome to use the built-in tools like the included trackpad would be an understatement. That said, ease of use wasn't really what we wanted to test. Ultimately, if you could push, you could absolutely edit images using the Linux-based tools and even (with WiFi connected) upload those images to an online gallery or attach them to an email.
On the plus side, the Steam Deck supports Bluetooth, which allowed me to connect my Logitech or Apple wireless keyboards and mice to the Deck, giving me even more freedom to work on the little device.
As good as it worked, I felt like we could go even further.
For the next step, I went ahead and ordered a USB docking station/hub for the Steam Deck, which allowed me to plug in multiple wired peripherals like a physical keyboard, mouse, external hard drives, a memory card reader and even connect a monitor using the HDMI port.
Through this process, I discovered that the Steam Deck can output 4K resolution, but at a maximum of 30Hz. Still, it allowed me to work in mirror mode or even extend the desktop in a configuration at dual monitor that used both the Steam Deck screen and my monitor, making the editing task a lot Easier.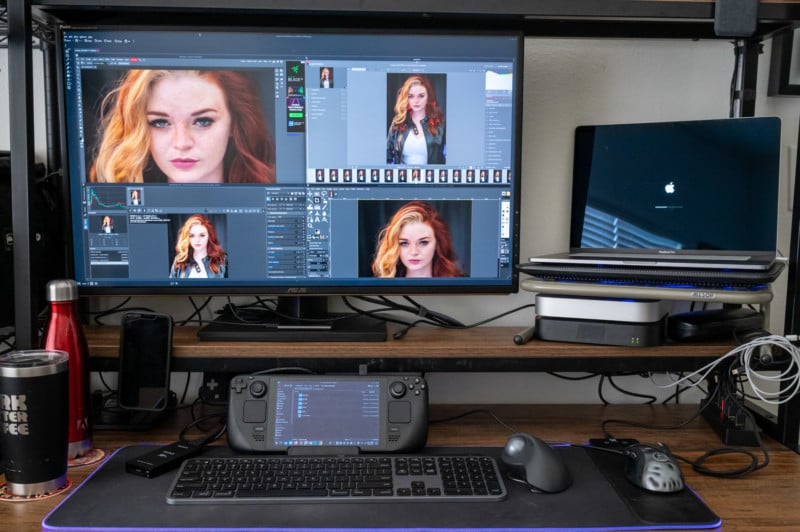 Once I nailed that, the next thought was if I could get Photoshop to work on the Steam Deck. Although there is actually a port of Photoshop CC available for Linux devices, after a full day of testing it was just too over my head. So the next logical step was to just boot the device with Windows 11 and see if this method would allow me to install Adobe Photoshop and Lightroom.
Install Windows and Adobe Photoshop on a Steam Deck
I won't go into detail on how to do this as there are dozens of video guides and instruction pages on setting up Windows on the Steam Deck (including official drivers for Windows from Valve directly).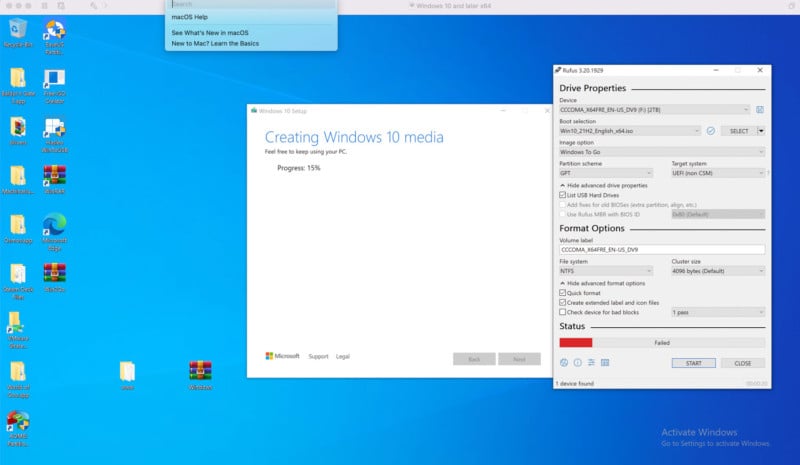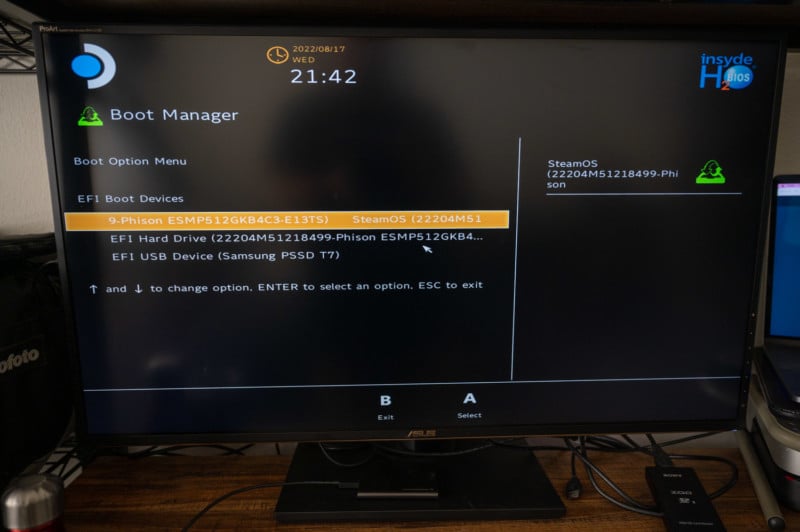 Despite these resources, it still took me three days to get it working properly. Admittedly, I was going about it in a particularly tricky way by using a Windows virtual machine (VM) to create an ISO which I loaded onto an external SSD so I could dual boot the device and have Windows installed. and works entirely through the SSD and not the Steam Deck (because I didn't want to break anything permanently).
This process definitely added a few levels of difficulty, but luckily, with the help of Donte Maxwell, I finally got it to work.
The results far exceeded expectations.
Thanks to the docking station, I was able to connect the SSD that housed Windows, a keyboard, mouse, and all the other peripherals I needed to begin the next stage of installing Adobe Photoshop and Lightroom Classic. The process, once Windows was running smoothly, was pretty smooth.
Despite running Windows from an external hard drive, there was no noticeable lag in the system, and Photoshop and Lightroom installed surprisingly quickly. I was even able to install a few plugins for Photoshop including the Retouch4Me suite and the RetouchingToolkit panels.
But would Lightroom work?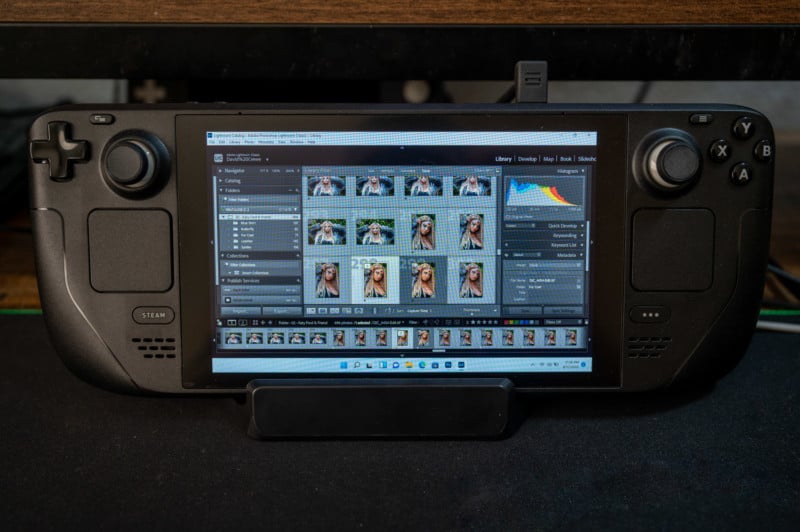 To my surprise, Lightroom worked flawlessly and easily imported 20GB of RAW files I had taken on a Nikon Z6 II. Using Lightroom, I was able to quickly select and edit all the files I wanted to work on with the device for this test. Since I wanted to dodge and burn properly and was using Windows, I was wondering if I could connect the latest Wacom Intuos Pro tablet to the device.
Although I couldn't get the Bluetooth to work (it's possible, I just didn't want to spend any more time on it), connecting the tablet via the USB cable got it set up and working just fine, including enabling it as a touch surface for even more control options.
The next step was to send those files into Photoshop for final polishing, which is the next editing step I would take on any other workstation. It was at this point that things got a little wonky.
While Photoshop installed fine, the Steam Deck video card (and drivers) had no OpenCL capability or support and immediately threw me errors once I opened Photoshop.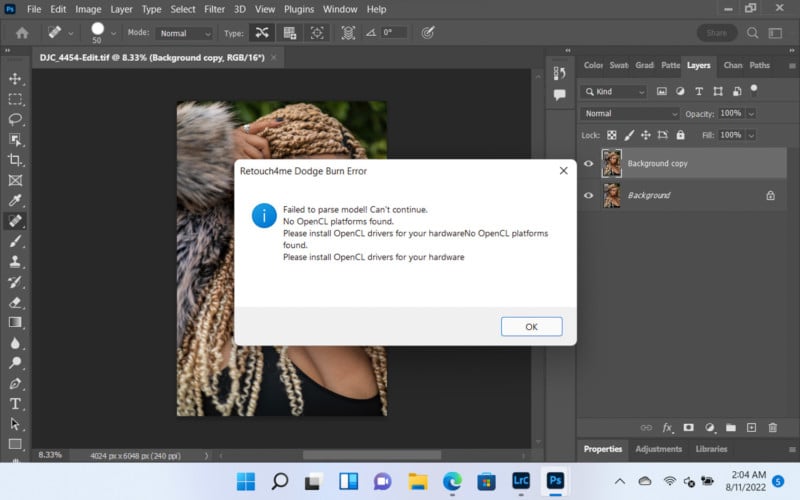 Thinking the worst, I closed the error message and thought I'd still see if it could work, and well, other than trying to run plugins that actually leverage OpenCL drivers, everything worked extremely well.
Not only was I able to heal, clone, dodge and burn, perform frequency separation, use the retouch toolbox and a host of other actions, I was even able to do it all using a Wacom tablet, which which gave the impression that the whole process was working on any other computer.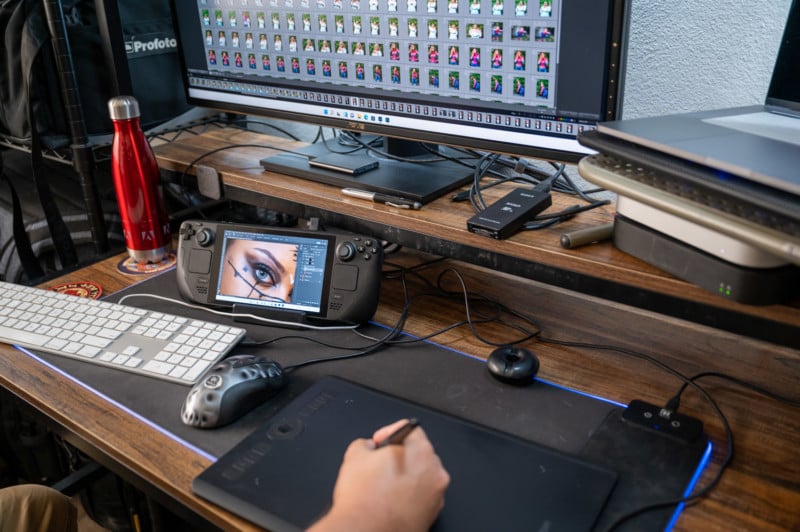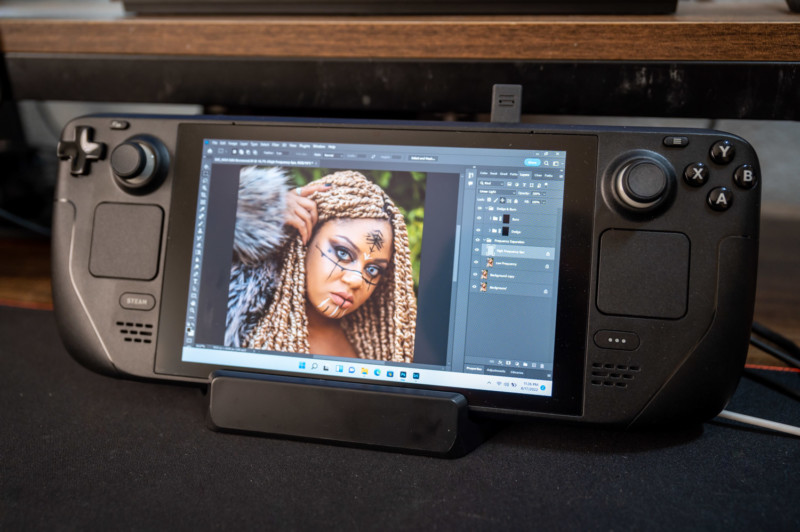 Yes, you can actually edit photos on a Steam Deck
So, can you edit photos on a Steam Deck? The answer is yes.
Even if I had to disconnect from the keyboard, mouse and keyboard, I could still works with Photoshop and Lightroom using only the built-in tools built into the Steam Deck.
But should you edit photos on a Steam Deck? Probably not.
As much fun as I had, I don't really recommend it, especially if you don't plan on using peripherals. The Deck's trackpad just isn't up to the task when it comes to precision and sensitivity when it comes to photo editing.
That said, if you were on the road with your files and didn't have your laptop and desperately needed to edit photos for some reason, you could. We've proven that the Steam Deck is indeed a capable editing device, held back primarily by hardware that was only ever intended for gaming. Plug in a few peripherals though, and it's like editing on any other computer.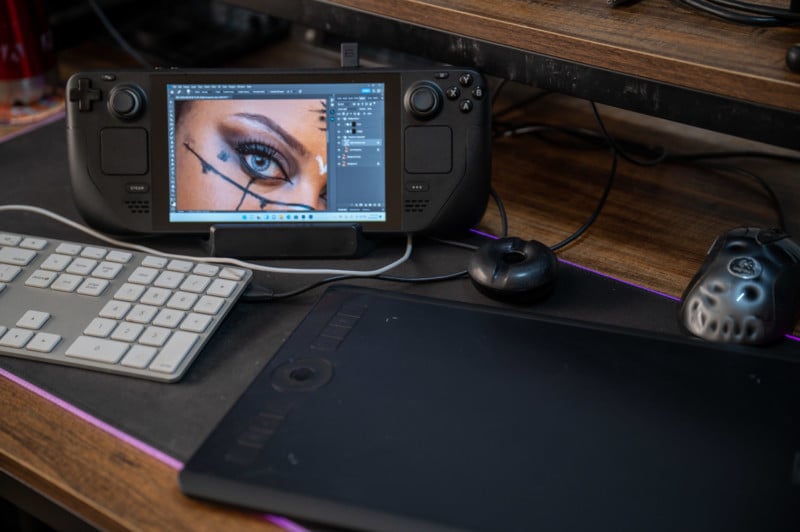 In an entire week of logistical, technical, and real-life headaches, I have to admit that making this work and producing the image above gave me a huge sense of accomplishment.
The system wasn't made for that and we didn't even know if it was going to work. The fact that he did the way he did went way beyond our expectations. I'm sure it would have been easier if I had also run the Windows installer locally on the Steam Deck. But despite my issues, I guarantee that as time goes on and more people tinker with the device, better drivers and support will be available to make retouching on the console of even more viable portable game.
For those interested, orders for the SteamDeck are still available with prices ranging from $399 to $649, depending on the size of internal SSD you choose.