Whether it's a bitten apple or a two-tailed mermaid, a logo is the foundation of a strong brand identity. Without a logo that stands out, you'll struggle to reach your audience and gain recognition, all because consumers won't be able to remember your brand.
Still not convinced? The logo design is a lot more important than most people realize. According to a 2015 study, even a basic element of your logo – its shape – can influence your brand image. So what are you waiting for? Here's how to take your brand to the next level with a beautifully designed and instantly recognizable square logo.
Why choose a square logo?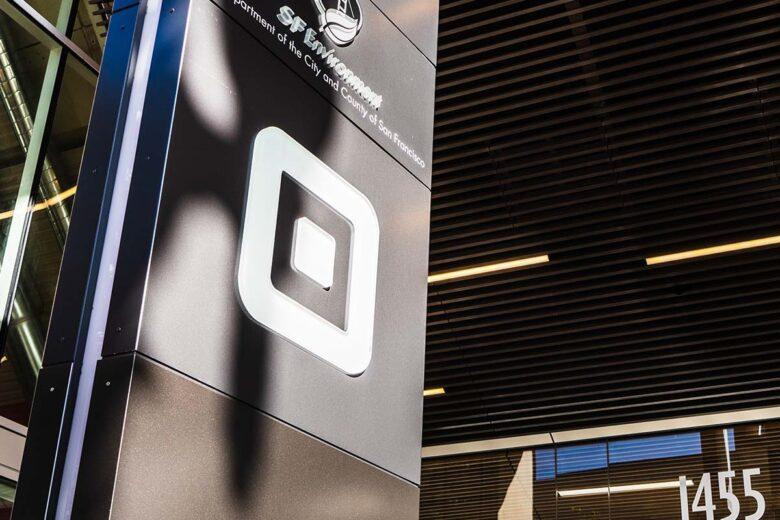 From Gap to BBC, you probably already know that square corporate logos are a popular choice among famous brands. But before you start designing a square logo for your own brand, it's important to understand the type of message you're sending to your audience.
The psychology behind square logos is quite simple: square-shaped logos are associated with structure, balance, and professionalism. In fact, a quality logo design can be enough to inspire confidence in your audience. Think about it: some of the most "secure" things in our lives are square-shaped, like safes and houses.
Square logo designs for your inspiration
Now that you know how the square mark can shape your brand image, it's time to start planning your logo design. Whether you want to give your photography portfolio a polished look or stand out from the competition on Etsy, a well-designed logo can be your secret ingredient to marketing success.
Need inspiration? Here are some square logo designs to help you create an outstanding and eye-catching logo.
1. Square logos that tell a story

Some brands use square-shaped logos to tell their brand story in an instant. After all, your logo is the first thing consumers associate with your business. It welcomes people when exposed to your brand, so it makes sense to show consumers what they can expect.
Take the Microsoft logo as an example. It is a logo composed of 4 squares presenting a range of products, each represented by a different color. The logo design is clean and symmetrical, making it easy to absorb a lot of information at a glance.
Instagram is another great example of brand storytelling using logo design. It's an orange square with rounded edges and a camera outline. Despite its simplicity, the camera outline highlights the purpose of the Instagram app: to take and post photos.
2. Square Logo Designs That Keep It Simple

Squares create the perfect layout for a minimal logo design. When you remove unnecessary embellishments and bold colors, you can create a logo that's as simple as it is impactful.
What kind of brands should stick to a simple design? Think baby products for new parents, luxury brands with a minimalist vibe, or even beginner-friendly tech products. If you're targeting people who want a simple shopping experience, a minimalist design can showcase your brand value and send the right message.
Gap is the perfect example of a simplistic square logo. It has all the elements of a punchy logo without visual clutter, using a serif font and navy blue background to emphasize its tradition and down-to-earth shopping experience.
3. Square logos that emphasize structure

One of the best things about square brand logos? They make your brand look professional and trustworthy. When you experiment with shapes and other design elements, you can create a structured design that leaves a lasting impression.
American Express is a perfect example. Customers want security and structure from their bank, and the American Express logo provides just that. The bold, tiled font is assertive, creating a sense of structure. At the same time, the color blue is commonly associated with responsibility and reliability.
4. Square-shaped logos that convey strength

Using squares in logo design can also convey a sense of power and courage. Squares are one of the building blocks of our civilization – and they can be seen everywhere, from architecture to vaults.
When you combine square elements with rounded elements, you will convey a sense of balance and stability. For example, the BBC logo uses impactful design elements to create a sense of trust among consumers. Square branding and monochromatic colors are solid and strong. In addition, it is easy to recognize and print on the merchandise.
5. Square company logos that think outside the box
While some square logo designs focus on structure and stability, others use squares to break the rules. Taking a different approach to logo design can show consumers that you're thinking outside the box, literally.
These logo designs are engaging and impactful, and they're a great way to show consumers what you're all about. If your business breaks the norm or has something new to offer, don't be afraid to choose a bold design to tell your unique story.
Tips for creating a beautiful symmetrical square logo
Brand identity is about creating an experience that resonates with your audience, and it starts with your logo. Here are some tips to help you design a beautiful square business logo.
Balance your logo design with softer elements. Logos for square designs can be clean and bold, but they don't have to be. Be sure to match your design to your brand image. If you're trying to convey balance, rounded elements can help highlight your brand identity. For example, brands like 7-Eleven and T-Mobile use secondary elements, like curved fonts, to add depth to their logo design.
Consider your layout. Would your brand logo look better with a box or an outline? Could you use smaller shapes in the design? Instead of using actual squares to describe their logo, some brands incorporate the elements of square logos (think square fonts, straight lines, and geometric symbols).
Differentiate your brand with a memorable logo. If your business name is longer, consider a logo or monogram to replace your brand name in logos. Short and concise logos (see: the "f" of Facebook or the ghost of Snapchat) leave a stronger impression.
Ignite your design with eye-catching visuals. Newsflash: Even though squares are basic, they don't have to be boring. Don't be afraid to experiment with bold colors, shapes, and design elements to inject creativity into your logo. The right logo colors can engage your audience, tell your brand story, and make your design stand out.
How to Create a Square Logo with Picsart
By now you are probably filled with ideas to create the best logo for your brand. You know how to tell your story, stand out from the crowd, and leave an impression on your audience with the coolest logo designs.
When you're ready to grow your brand, Picsart is here to help. Picsart makes it easy to design stunning and memorable logos for square layouts, even if you're not a graphic design professional. Here's how to bring your vision to life with Picsart.
On the Web
1. Open the Picsart web editor and click New Project to begin.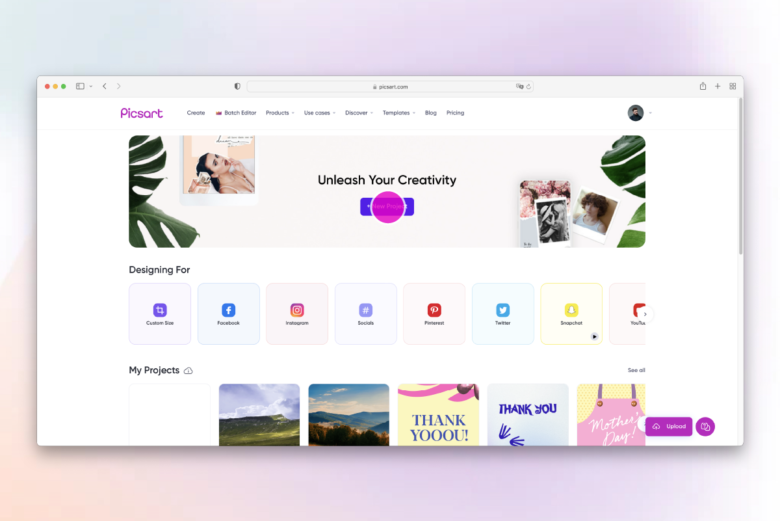 2. Add a square to your canvas by clicking Elements and selecting the square icon from the Simple Shapes category.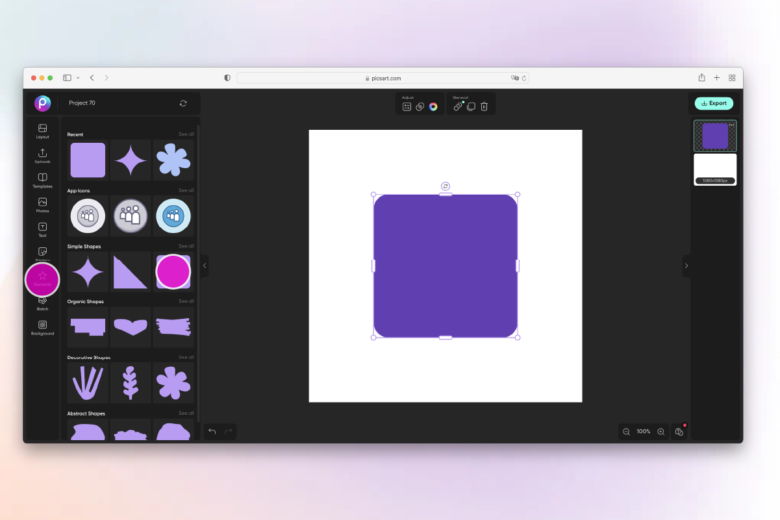 3. Add your brand name to your logo by clicking on the Text tool, selecting your font and typing your copy. You can make all kinds of customizations to the look of the logo by exploring the full range of Picsart creative tools.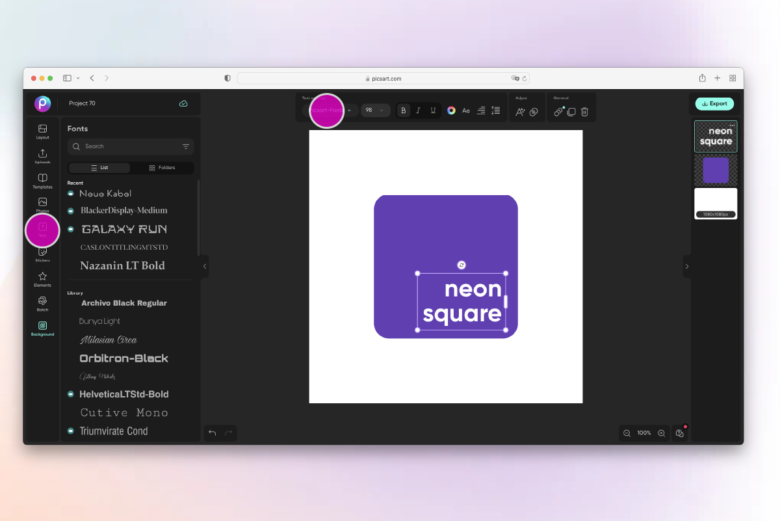 4. When you have made all your final changes, click the Export button and upload your work.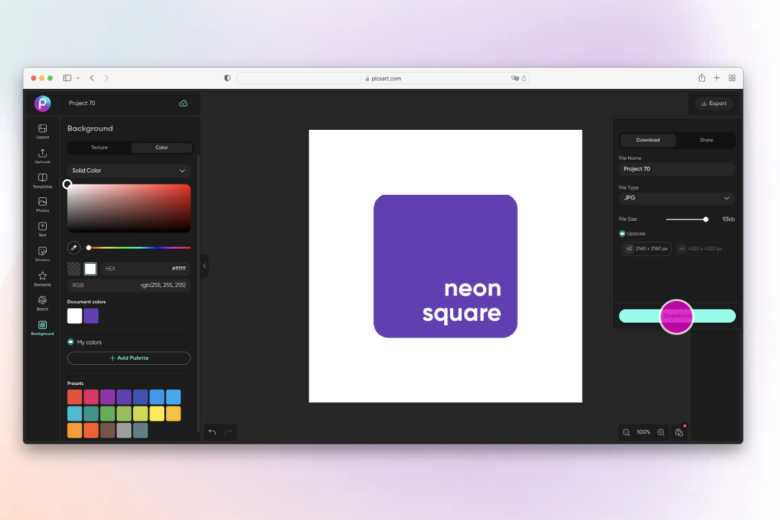 On mobile
1. Open the Picsart app and tap the plus sign (+) to start a new project.
2. Scroll to Color backgrounds and select a blank canvas.
3. There are several ways to do it from here, but for simplicity press the Stickers tool.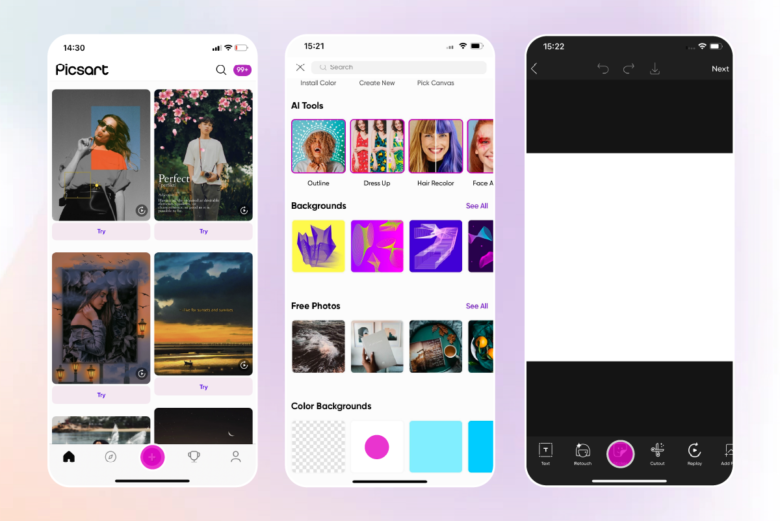 4. Search for "pink square" (or any color) and select the square logo canvas you want to put your brand on.
5. Resize it and place it on the canvas as needed. Confirm by pressing the Apply button.
6. Add your brand name by pressing the Text tool, selecting the desired font, typing the name, placing it on the square sticker and pressing Apply.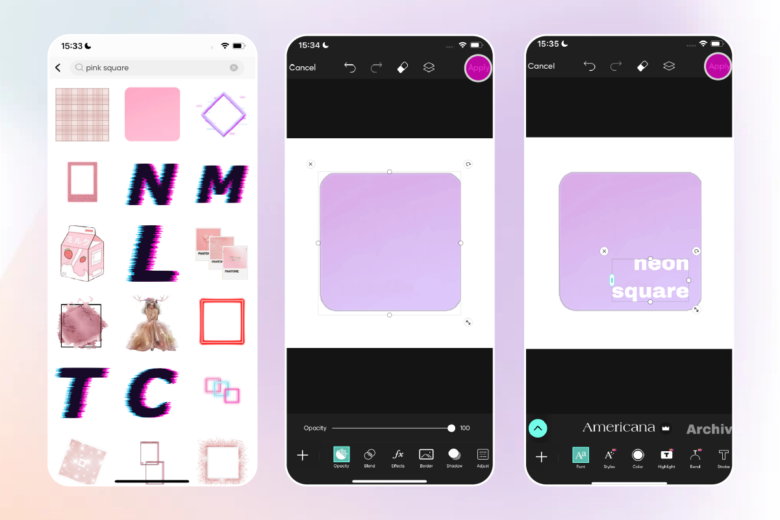 seven. As with the web editor, you can really customize the logo design as much as you want. When all changes are complete, tap the check mark to save your work.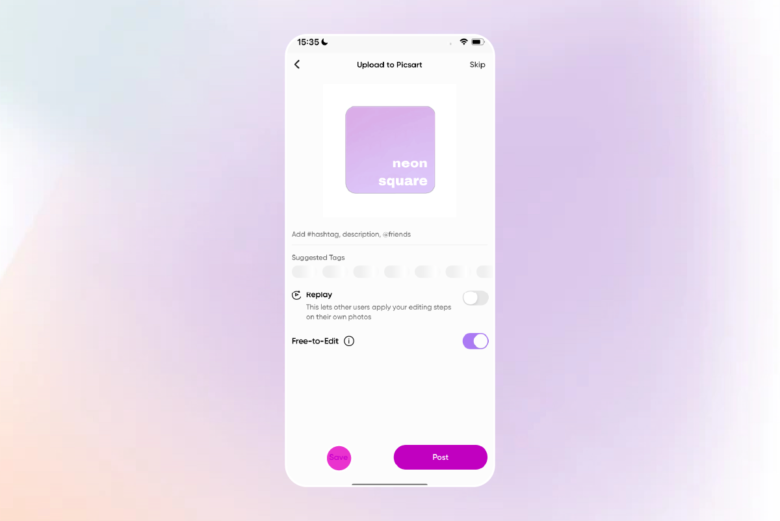 Create at the speed of culture
Picsart is a complete ecosystem of free content, powerful tools, and creator inspiration. With one billion downloads and over 150 million monthly active creators, Picsart is the largest creative platform in the world. Picsart has collaborated with major artists and brands like BLACKPINK, Taylor Swift, The Jonas Brothers, Lizzo, Ariana Grande, Jennifer Lopez, One Direction, Sanrio: Hello Kitty, Warner Bros. Entertainment, iHeartMedia, Condé Nast, and more. Download the app or start editing on the web today to enhance your photos and videos with thousands of quick and easy editing tools, trendy filters, fun stickers and shiny backgrounds. Unleash your creativity and go gold for premium benefits!